Tricky west swell for the weekend, followed by better energy
Victorian Surf Forecast by Craig Brokensha (issued Wednesday 14th July)
Best Days: Sunday for the keen in protected spots, Monday and Tuesday morning Surf Coast, Wednesday and Thursday Surf Coast
Features of the Forecast (tl;dr)
Fading surf tomorrow with fresh and gusty N/NW winds
Building W/SW swell later Sat with strong NW tending SW winds, peaking Sun (mixed in with SW windswell) and with W/NW tending W/SW winds
Inconsistent SW groundswell building Sun PM, peaking overnight, easing Mon with W/NW tending NW winds
New SW swell for Tue PM with NW tending strong SW winds
Fun, follow up swells Wed-Fri
Recap
An inconsistent W/SW groundswell yesterday to 2-3ft on the Mornington Peninsula and Phillip Island with favourable winds most of the day. The Surf Coast was mostly tiny and to 1-1.5ft, with the rare bigger one for the ultra patient.
This morning the swell has held with fresher N'ly winds, favouring some spots over others. We'll see the swell fade through the day as winds ease temporarily.
This week and next week (Jul 15 - 23)
The end of the week will be void of any quality surf with the swell seen since Monday due to ease this afternoon, fading further tomorrow. The Surf Coast will be tiny to flat tomorrow with a possible 1-2ft wave on the Mornington Peninsula but with a fresh and gusty N/NW breeze. This will create bumpy conditions across the peninsula.
Stronger N/NW tending NW winds are due Friday as the swell bottoms out and a vigorous mid-latitude front moves in from the west.
Now, moving into the weekend and next Monday, we're due to see an increase in swell activity, but in my opinion the swell for the weekend will be fairly hit and miss, too west and inconsistent while we'll have a much better SW groundswell for late Sunday afternoon and Monday.
Looking at the weekend's swell first and a strengthening mid-latitude front pushing in and under Western Australia will initially aim a favourable fetch of strong to gale-force W/SW winds through our western swell window on Friday, before pushing up and north of Bass Strait, out of our swell window.
This temporary fetch through our swell window, then moving too far north will limit the swell potential from this front, with the swell due to arrive late afternoon Saturday, with no size at all due through the morning, at odds with the model forecasts.
Size wise, the Surf Coast may reach 2-3ft by dark, 5ft to the east but with strong morning NW winds, shifting SW into the afternoon. Sunday is a better chance to see a surfable cleaner (likely still lots of lump) wave with sets to 3ft+ on the Surf Coast and 6ft waves to the east (mixed in with some local windswell). Winds will be more favourable as well with a morning W/NW breeze, shifting W/SW through the morning but then possibly back to the W late. With W/SW winds in Bass Strait though there's likely to be lots of lump and wobble to the surf.
Now, into the afternoon, a stronger though less consistent SW groundswell is due to fill in, generated by a strong polar low that's currently firing up east of the Heard Island region.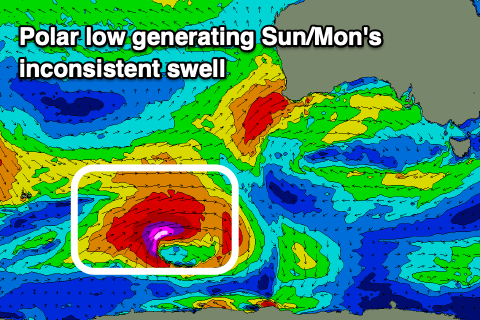 This low has been upgraded a little in strength since Monday with a great fetch of severe-gale to storm-force W/SW winds due to be projected east this afternoon and evening, persisting tomorrow morning before weakening south-southwest of WA through the day.
This swell should arrive Sunday afternoon and build to 3-4ft on the Surf Coast, 6ft+ to the east by dark, peaking overnight and then easing Monday from 3-4ft and 6ft respectively.
Conditions will be much better and more organised with a W/NW offshore due to swing more NW through the afternoon.
Following Sunday/Monday's SW groundswell, smaller, reinforcing pulses of SW swell are due from weaker, but persistent frontal activity under the country and along the polar shelf on the weekend and early next week. Winds look favourable for the Surf Coast and generally out of the north-western quadrant (besides a strong SW change Tuesday afternoon).
Longer term we may see some stronger frontal activity firing up south-west of Western Australia, but more on this next update.