Wednesday, 25 November 2020
Large swell inbound, though winds remain tricky
Victoria Forecast by Craig Brokensha (issued Wednesday 25th November)
Best Days: Experienced, keen surfers tomorrow afternoon, experienced surfers Friday, possibly Saturday morning for the keen, Monday morning and Tuesday morning on the beaches, Friday next week on the beaches
Recap
Average surf yesterday with tiny, clean offerings on the Surf Coast, bumpy and poor to the east. Conditions did improve into the afternoon across all locations as winds became variable and there was also a slight increase in size.
Today, our new pulse of mid-period SW swell has come in nicely. I was a little worried about the size across the state, hence dropping very slightly the expectations today (on Monday) but we've got fun 2-3ft sets on the Surf Coast swell magnets and 3-5ft waves to the east with light offshore winds.
The swell should hold most of the day and winds will also remain favourable until late afternoon when sea breezes kick in.
This week and weekend (Nov 26 – 29)
Satellite verification, did someone ask for satellite verification?
When forecasting swells and surf, I'm mostly looking at forecast storms, fetches and tracks, but to verify that the storm reached the intensity indicated by the models there are a couple of satellites which measure the ocean surface roughness from high in the atmosphere.
This is then converted to give an observation of wind speed in the open ocean, which can then be compared to the forecast data.
This week a strong low formed south-west of Western Australia and satellite observations have picked up a great signature of severe-gale W/SW-W/NW winds. This confirms the model forecasts and winds are actually if anything, a touch stronger than forecast.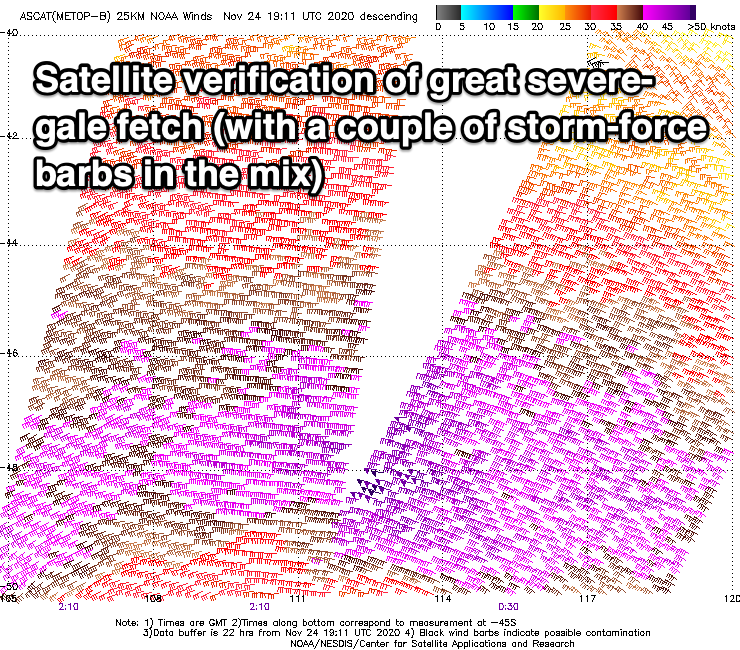 This initial fetch has generated a large open ocean westerly swell, and during today we'll see severe-gale W-W/SW winds continuing to be projected towards us through our swell window.
The slow movement of this storm will help generate a large, strong W/SW groundswell which should arrive mid-late tomorrow morning, building rapidly into the afternoon ahead of a peak late in the day/into the evening.
We should see the Surf Coast building from a small 2ft tomorrow morning, to a strong 4-6ft late afternoon/evening (that being 4ft in protected spots and 5-6ft on the swell magnets). The Mornington Peninsula should build from the 3-4ft range early to 8ft on the sets later in the day.
Winds are still looking average, though workable into the afternoon as the swell builds, with a surface trough due to bring a fresh to strong SW change at dawn, easing in strength and swinging more S'ly late afternoon.
The swell will ease through Friday from the 4-5ft range on the Surf Coast, 6-8ft to the east as winds improve. With the size of the swell options will be limited but an early E-E/NE breeze will shift NE mid-late morning and hold until about mid-afternoon creating improving conditions ahead of sea breezes.
With the easing swell and improving conditions there'll be more options opening up early afternoon before that sea breeze kicks in.
Moving into the weekend, our tricky, troughy outlook is still on track with a strong SW change due to move through early morning Saturday, but we may see winds go more variable behind this for dawn, before then swinging back S'ly mid-late morning.
This will create lumpy/uneven conditions with the swell continuing to ease from the 3ft range on the Surf Coast, 4-5ft+ to the east.
Sunday looks like a definite lay day with a secondary trough bringing fresher S/SW winds as the swell eases further.
Next week onwards (Nov 30 onwards)
As touched on in Monday's update, a strong, slow moving polar low is due to develop south-west of WA Friday, generating a fetch of W/SW gales which will weaken while stretching out and projecting east.
We're then expected to see a weaker front spawning off the low, projecting towards and then across us Tuesday evening.
The initial polar fetch will generate an inconsistent though moderate sized SW groundswell that's due to build later Tuesday and peak Wednesday, but this will be with strong SW winds in the wake of the change, mixed in with some mid-period swell.
Conditions will remain average Thursday as winds swing S/SE owing to a high sliding in from the west, with cleaner surf possible on the beaches Friday as the swells ease. More on this Friday though.