Friday, 14 August 2020
Poor weekend, not much better next week
Victoria Forecast by Craig Brokensha (issued Friday 14th August)
Best Days: Today, Tuesday for the desperate
Recap
Clean conditions across the beaches with a continuation of small to tiny surf, with inconsistent 2ft sets on the exposed breaks east of Melbourne. Today there's a hint more energy with sets near 2ft on the Surf Coast and 2-3ft waves across the exposed beaches to the east.
Conditions should remain clean all day for the exposed beaches.
This weekend and next week (Aug 15 - 21)
There's no real change to the weekend outlook with winds expected to deteriorate as a slowly weakening mid-latitude low that's been moving in from the west pushes across us tomorrow.
This will bring our run of northerly winds to an end, with an early W/NW breeze tomorrow due to swing SW late morning, followed by strengthening SW winds on Sunday.
Size wise we'll likely see similar waves to today, 1-1.5ft or so on the Surf Coast and 2-3ft to the east with a mix of small to tiny and inconsistent background swells.
Winds should swing back to the W/NW on Monday but again, there'll be no significant size for the Surf Coast or other protected spots with tiny waves continuing around 1.5ft. The late afternoon may see more variable winds to the east if we're lucky.
As discussed in the last couple of updates, the surf will remain small to tiny through Tuesday and Wednesday next week owing to another pair of lows moving in towards WA on the weekend, blocking our swell windows.
The more southerly positioned of these two will direct a short-lived and small burst of strong to gale-force W/SW winds through our western swell window tomorrow, producing a limited pulse of W/SW swell for Tuesday. Size wise I wouldn't expect anything over 1-2ft on the Surf Coast and 3ft on the sets to the east as winds freshen from the N/NW.
Looking at the tricky movement of the more northern located mid-latitude low as it pushes east through next week, and it looks to hang too north of our swell window to generate any quality swell.
Fetches of strong to gale-force W/SW winds will all be up in the Bight, and the Mornington Peninsula will struggle to extract size from this low Thursday.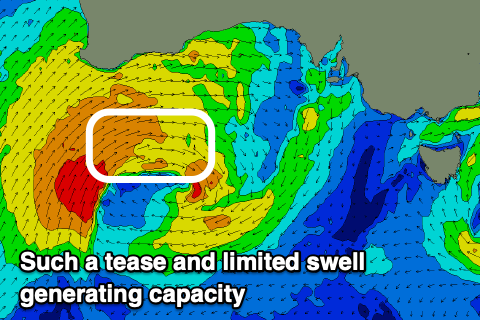 We are expected to see the low move across us later week, dragging up that polar frontal system across us on Friday, kicking up a mid-period and close-range S/SW swell for Friday, but with strong W/SW-SW winds.
There's a bit more potential following this with another couple of polar fronts likely to follow a similar track, swinging winds back to the west with moderate levels of swell. GFS isn't going down this route though, with a broad low and less swell potential on the cards.
More on this Monday though. Have a great weekend!