Monday, 27 July 2020
Improving waves for the Surf Coast, though nothing major
Victoria Forecast by Craig Brokensha (issued Monday 27th July)
Best Days: Wednesday onwards for spots that like winds from the north-western quadrant
Recap
Fun waves across exposed beaches Saturday with great conditions and an inconsistent W/SW groundswell to 3-4ft, 2ft to occasionally 3ft on the Surf Coast magnets, easing through the day and smaller yesterday with less favourable easterly winds.
Today conditions are poor with a surface trough moving through bringing onshore winds with a small, leftover mix of swells.
This week and weekend (Jul 28 – Aug 2)
Moving into tomorrow and we've got our good, moderate sized SW groundswell on the cards, but winds in the wake of today's change and a powerful low sitting off the southern NSW coast will see winds remaining onshore all day.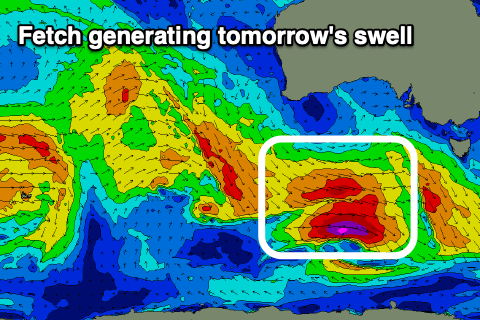 A moderate to fresh S/SE breeze is due to abate slowly though the day but conditions will remain average. Size wise, a great fetch of W'ly gales generated yesterday through our swell window should provide 3-4ft waves on the Surf Coast, up to 6ft to the east, easing later in the day.
Wednesday looks much better as winds shift to the N/NW and the swell eases back from 3ft on the sets across the Surf Coast magnets, 4-5ft to the east.
Into Thursday winds will still be favourable and out of the W/NW, shifting SW through the early afternoon with a weakening front moving through. This front is due to bring some new swell with it, that being a mid of mid-period energy and slightly stronger groundswell owing to the initial stages of the front as it passed under WA being stronger than when it moves past us.
Thursday's swell should see the surf building back to 3ft on the Surf Coast through the day with the mid-period energy, 4-5ft to the east with Friday coming in at 3ft+ and 5-6ft respectively.
Winds will continue to favour the Surf Coast though with those W/NW tending SW breezes mentioned above, all day offshore and N/NW tending variable Friday, though possibly tending N/NE into the afternoon east of Melbourne. We'll confirm this Wednesday.
Moving into the weekend and that stronger low that was forecast to develop on the back of the progression of fronts moving through this afternoon isn't on the cards any more unfortunately.
We are due to see a reinforcing W/SW groundswell though, but size wise it looks only moderate, generated by a pre-frontal fetch of strong to gale-force W/NW winds moving in from the south-east Indian Ocean and under the country.
A late intensification in our south-west swell window Friday, producing an additional fetch of W/SW gales may produce a touch more size for late Saturday and more so dawn Sunday.
We should see 3ft to occasionally 4ft waves through Saturday and Sunday on the Surf Coast, 6ft or so to the east, but locally wind wise, the models diverge. We may see strengthening N'ly winds all day Saturday, swinging NW on Sunday, or worse case, N/NW winds on Saturday, shifting W/NW later and back to the NW on Sunday.
Longer term a small and tight low forming on the back of all the frontal activity this week and weekend may project up and across us further over to NSW early next week bringing a windy, onshore and sizey swell. More on this Wednesday though.