Friday, 22 May 2020
Easing onshore swell, cleaner next week but slow
Victoria Forecast by Craig Brokensha (issued Friday 22nd May)
Best Days: Today, protected spots keen surfers early tomorrow, selected beaches Monday, exposed beaches Tuesday and late week
Recap
Poor conditions across all locations yesterday morning while a new S/SW groundswell started to build into the afternoon as winds eased off creating OK waves in protected spots for keen surfers.
Today our large S/SW groundswell has filled in with clean and easy 6ft waves on the Surf Coast, bigger to the east and we should see conditions remaining favourable most of the day with winds only shifting weak S'ly into the afternoon.
This weekend and next week (May 23 - 29)
Today's large swell was generated by a very strong and broad polar low on Wednesday and yesterday morning, with it since pushing out of our swell window yesterday afternoon.
This will result in a peak through today, with the swell easing back through tomorrow and further Sunday. Our new SW groundswell for Sunday afternoon is on track though, with the strong low linked to it firing up east of Heard Island through Wednesday. A distant but good fetch of severe-gale to storm-force W/NW winds were generated, producing an inconsistent groundswell that should keep the Surf Coast around 3ft+ into the afternoon, 4-5ft+ on the Mornington Peninsula, easing Monday.
Now, winds are still look poor for the majority of the weekend, but we're now expected to see a period of lighter SW winds at dawn on the Surf Coast tomorrow, though quickly strengthening from the S/SW. Easing sets from 4-5ft+ are expected, 6ft+ to the east.
Sunday will be poor with fresh to strong S/SE winds, abating through the day.
Remember the model divergence for Monday regarding the local winds? We've got come consensus now with some form of E/SE-E breeze now due to develop through the morning creating improving conditions across selected spots east of Melbourne with easing sets from 4ft or so, 2ft to possibly 3ft on the Surf Coast (though poor).
Tuesday will be great for the beaches with offshore NE winds blowing all day but smaller and fading sets from 3ft or so.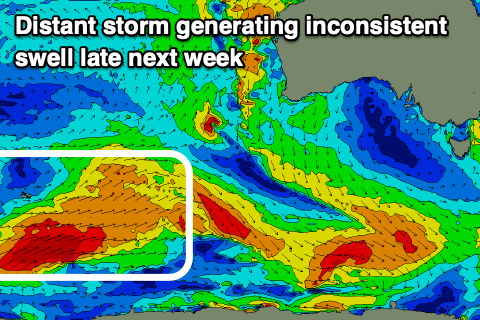 The swell will continue to fade through the rest of the week, with a new swell showing for Thursday/Friday being generated by a strong but distant couple of polar storms west of and around the Heard Island region today and this weekend.
These swells will be very inconsistent but should offer good sized sets for the beaches.
Winds look favourable from the north though, with the exposed beaches likely to see infrequent 4-5ft sets possibly late Thursday but more so Friday. We'll review this on Monday though.
Longer term it looks like we'll see the storm activity stay west and north of us for next weekend, possibly more active the first week of June, but check back Monday for more details. Have a great weekend!