Wednesday, 6 May 2020
Windy new swell tomorrow, average until late in the weekend
Victoria Forecast by Craig Brokensha (issued Wednesday 6th May)
Best Days: Thursday, Sunday morning Surf coast, Monday Surf Coast, Tuesday onwards Surf Coast
Recap
A drop in swell yesterday, though the inconsistent and long-range W/SW groundswell provided a touch more energy than expected through the day.
The Mornington Peninsula saw clean and fun 3ft+ surf with a late afternoon glass of, small and 1-2ft on the Surf Coast.
Today the swell is smaller again with tiny clean waves on the Surf Coast, an inconsistent and clean 2ft on the Mornington Peninsula.
This week and weekend (May 7 - 12)
With the swell bottoming out today, we look at our new long-period SW groundswell due on the coast tomorrow morning.
Satellite images of the low have come back quite impressive, but as you can see the fetch is poorly aligned for swell generation across Victorian and angled west-northwest. Still, storm-force barbs were recorded, stronger than the forecast severe-gale winds, and even though the track was also unfavourable and to the south-east, we should see some decent swell spreading off the low.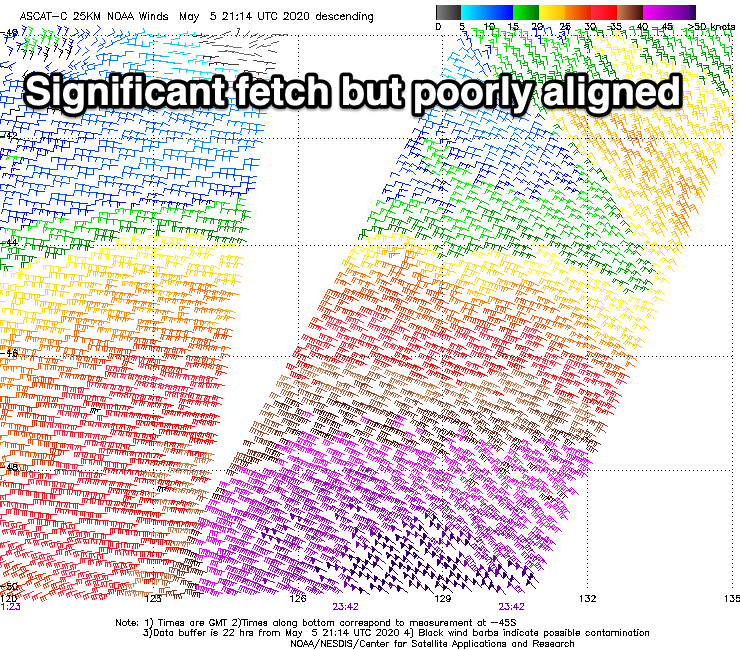 It will be a short-lived event, peaking tomorrow morning likely to 3ft on the Surf Coast magnets, 4-5ft on the Mornington Peninsula, easing through the day.
Winds are still tricky but workable with a strong morning N'ly, easing slightly while tending N/NW into the afternoon.
Come Friday the swell will be gone, and we'll have some average, weaker, building mid-period W'ly swell from a severe low that's currently impacting Western Australia.
This low is very significant and will generate severe-gale W'ly winds under WA's South Coast today, but this will be too north of our swell window and aimed into South Australia.
As the low weakens and dips south-east tomorrow we'll see a much weaker and poorly aligned fetch of strong W-W/NW winds generated in our western swell window through the afternoon.
This isn't ideal at all and isn't expected to offer any real size to the Surf Coast with 1-2ft waves max due, possibly 2-3ft to the east. The models are picking up way more size than expected, so expect Friday to be a lay day with fresh N/NW winds.
Saturday unfortunately doesn't look much better with a secondary front moving under WA and then spawning into a low south-west of us on Friday not likely to generate any decent new swell until later in the day, with the better SW groundswell for Sunday.
The front will move through during the day Saturday though bringing strengthening NW tending W'ly winds and a likely increase in short-range W/SW swell to 2ft later in the day on the Surf Coast, 3-4ft to the east, smaller in the morning.
Sunday's swell is still on track though, with the formation of the low on Friday expected to generating a slow moving fetch of gale to near severe-gale SW winds firing up temporarily, before weakening while tracking east into Friday evening and Saturday.
We should see the SW groundswell peaking Sunday with waves around 4ft on the Surf Coast, 5-6ft to the east with a fresh W/NW breeze, shifting W/SW through the day.
Monday will be smaller though with persistent W/NW winds.
Further into next week it looks like we'll see mid-latitude fronts generating moderate sized pulses of swell with westerly winds, favouring the Surf Coast, but more on this Friday.