Monday, 17 February 2020
Very average run continues
Victoria Forecast by Craig Brokensha (issued Monday 17th January)
Best Days: Desperate surfers dawn Friday on the Surf Coast, exposed beaches Sunday morning
Recap
Terrible conditions all weekend with onshore winds and a poor swell Saturday, swinging more easterly yesterday kicking up a building south-east windswell.
This morning we've got cleaner conditions across the exposed beaches but a weak and easing windswell from peaky 2ft on the sets, bigger to 2-3ft on the Surf Coast but bumpy.
This week and weekend (Feb 18 – 21)
Well this morning's waves, while not great at all were the best of the week east of Melbourne, with poor surf still set to continue over the coming days.
Conditions will be clean early tomorrow with variable winds ahead of a westerly change but there'll be no size left in the water at all with today's SE windswell fading back overnight. A new inconsistent W/SW groundswell is due later in the day, but with those W/SW tending SW winds.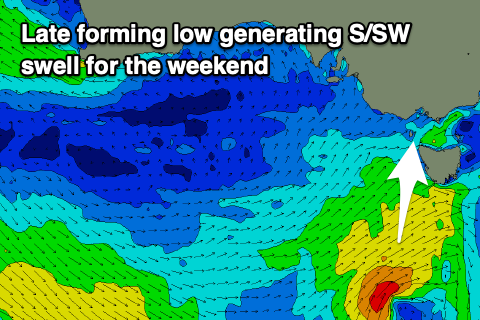 This groundswell (discussed last week) has hit WA and is due to kick later tomorrow to 2ft on the Surf Coast, bigger to the east and peak Wednesday to 2-3ft west of Melbourne and 4-5ft+ on the Mornington Peninsula but with strong and terrible SW tending S/SW winds.
These onshore winds will kick up similar amounts of junky windswell which will slowly ease with the groundswell on Thursday as fresh and gusty S/SW winds persist.
Come Friday we should see an early W/NW breeze on the Surf Coast before quickly shifting back to the S/SW along with an easing mix of swells from 2ft or so, bigger to the east.
Into the afternoon and more so Saturday a new pulse of S/SW swell is due off a tight low forming late in our swell window Thursday. No major size or strength is expected off this low, and winds will continue to be a problem, moderate out of the S tending S/SE. Size wise the Surf Coast should see waves to 3ft, 4ft to occasionally to the east.
Sunday should become cleaner with a light variable E/NE breeze and easing swell from 2ft on the Surf Coast, 3ft+ to the east.
Longer term an inconsistent and long-range SW groundswell is on the cards for early-mid next week, possibly mixed in with some close-range swell as a series of polar fronts push up and towards us. The models diverge around these developments though, so check back Wednesday for a clearer idea.