Monday, 10 February 2020
One window for the period
Victoria Forecast by Craig Brokensha (issued Monday 10th January)
Best Days: Desperate surfers early tomorrow Surf Coast, exposed beaches Friday
Recap
Poor conditions with strong onshore winds and junky south-east windswell across both coasts over the weekend with some low quality surfable options for the savvy.
Today the swell was easing back in size across all locations with onshore winds continuing to create average to poor conditions.
This week and weekend (Feb 11 – 16)
Unfortunately the coming week is looking poor until Friday when we should see winds swing offshore out of the N/NE and with a fun, easing W/SW groundswell for the exposed beaches. The main reason for this is all the activity on the East Coast and blocking highs and no close-range swell generating systems for the southern states.
Winds are due to swing around to the W/NW across most spots tomorrow morning ahead of a surface trough with an easing SE windswell from 2ft or so on the Surf Coast, while on the Mornington Peninsula our new inconsistent W/SW groundswell is due to fill in. This swell was generated in our far swell window and is likely to provide very infrequent 3-4ft+ sets (though onshore).
Moving into Wednesday there'll be nowhere to surf as a surface trough moves through bringing onshore S/SW winds, tending S/SE through the day along with a small mix of swells.
As talked about last week, the trough along with Tropical Cyclone Uesi moving south from the Coral Sea will squeeze a high moving in from the south-west, directing strong SE winds into us on Thursday along with a building SE windswell to the 3ft+ range or so on the Surf Coast into the afternoon, smaller to the east.
As the cyclone continues moving south later week, winds should veer around to the N/NE with an easing SE windswell on the Surf Coast from 1-2ft, while a new less consistent background W/SW groundswell is due on the Mornington Peninsula.
The source was an intense but distant polar low that developed south-east of South Africa and traveled east, weakening south-west of Western Australia.
The long-period fore-runners are due to arrive Thursday with the swell peaking through Friday, possibly a little undersized at dawn.
Infrequent sets to 3ft to occasionally 4ft or so are due on the Mornington Peninsula, 1-2ft or so on the Surf Coast with long waits for the best ones. Winds could remain favourable all day but we'll review this on Wednesday.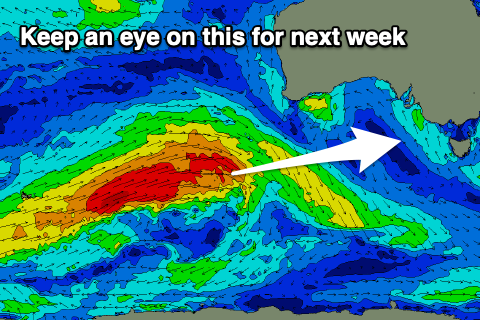 Come the weekend and another trough moving in from the west will bring a return to onshore winds and with no quality groundswell or size.
Longer term it looks like we'll see a continuation of easterly winds and no quality groundswell besides on inconsistent W/SW groundswell mid-next week. This could be moderate in size, but we'll have to have a closer look at this on Wednesday and Friday.