Wednesday, 29 January 2020
Make the most of the current surf, the outlook is average
Victoria Forecast by Craig Brokensha (issued Wednesday 29th January)
Best Days: Today, tomorrow across exposed beaches, Surf Coast Monday morning for the keen
Recap
Pumping waves yesterday morning with the stronger and best pulse of SW groundswell peaking through the morning to 4-6ft on the Surf Coast magnets, 6-8ft to the east and with favourable winds ahead of sea breezes.
The swell started to ease into the afternoon and is dropping further today in size and power with mid-period energy dropping from the 3ft range on the Surf Coast, 5ft or so to the east. Conditions are good again with variable winds (offshore on the Surf Coast) ahead of sea breezes.
This week and weekend (Jan 30 – Feb 2)
Make the most of today and tomorrow morning as the swell will continue losing size and power into the end of the week.
Conditions are looking great for the exposed beaches east of Melbourne tomorrow with a moderate to fresh and persistent N/NE offshore, while the Surf Coast should see N/NW tending variable sea breezy winds into the mid-late afternoon. Size wise the Surf Coast will be fading from 2ft on the swell magnets, but full with the early high tide and not ideal. The Mornington Peninsula should see better sets easing from 3ft, if not for the odd sneaky bigger one early.
Come Friday there's no real size expected, with tiny waves on the Surf Coast, possibly 1-2ft to the east with a fresh N/NE-NE offshore ahead of a late SW change.
As touched on in the last couple of updates, the weekend will remain void of swell with offshore winds Saturday morning ahead of a late morning SW change, W/NW tending SW winds Sunday but still tiny. Later in the day some weak W/SW swell is on the cards but with the onshore winds it'll be poor.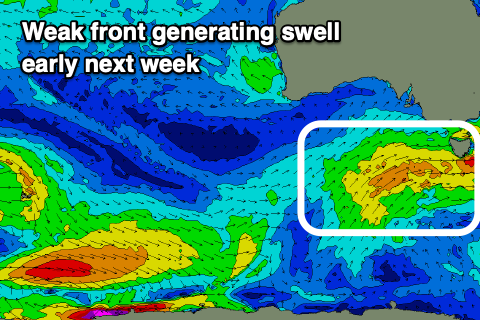 Moving into next week, we'll see a couple of broad but weak polar fronts projecting towards us through the weekend, generating small mid-period pulses of W/SW-SW swell for Monday/Tuesday.
There's no major size on the cards with 2-3ft of W/SW swell expected Monday on the Surf Coast, 3-5ft to the east, easing back from a similar if not slightly more consistent 3ft on the Surf Coast and 4-5ft to the east Tuesday.
Winds will favour the Surf Coast Monday morning out of the W/NW, shifting SW later morning, S/SE and poor Tuesday.
From here it looks like we'll see unfavourable onshore winds from the south-east to eastern quadrant as a trough off the southern NSW coast deepens into a weak low and drifts slowly east through all of next week, squeezing a strong high to our west-southwest. There'll also be no significant swell sources from the Southern Ocean, so therefore again, make the most of the current surf.