Monday, 13 January 2020
Limited windows for a clean wave, but one standout day
Victoria Forecast by Craig Brokensha (issued Monday 13th January)
Best Days: Today, Wednesday morning ahead of the change, possibly early Friday keen surfers
Recap
Windy but building swells on Saturday with workable conditions for the keen, better yesterday with waves to 3-5ft on the Surf Coast and 5-6ft to the east with persistent onshore winds.
Today the swell has eased a touch, but a new reinforcing S/SW groundswell due to fill in during the day has hit the Point Nepean wave buoy and we're seeing fun, clean waves on the beaches to 3ft+ or so on the Surf Coast and 4ft+ to the east.
This week and weekend (Jan 14 - 19)
Make the most of today's conditions as tomorrow will be smaller as the final pulse of S/SW groundswell fades along with moderate onshore S/SW tending S/SE winds. The Surf Coast should ease from 2ft or so and 3ft on the sets to the east.
Later in the day but more so Wednesday, a new W/SW tending SW groundswell is due to fill in, generated by a strong polar low that's currently south of WA. This low formed as a tropical depression was absorbed into the westerly storm track, deepening in our swell window.
A fetch of W/SW gales have been and will continue to be generated in our swell window yesterday and today, with the low weakening into this afternoon.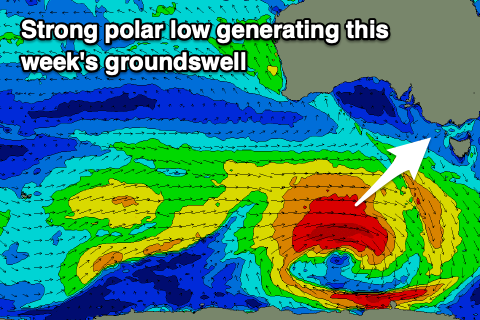 Looking at the expected size and there's a slight downgrade from Friday, but we should see the Surf Coast coming in 3-4ft, more to that consistent 4ft range on the magnets Wednesday, 6ft to the east and with tricky winds.
It looks like we'll see fresh NE tending N/NE breezes through the morning, possibly going SE with sea breezes ahead of a fresher SW change into the afternoon as a trough starts moving east. One of the high-res models has onshore winds all day, but this isn't in line with the others, so hopefully an outlier.
Thursday will then be poor and onshore with gusty SW winds as the SW swell eases.
Moving into Friday a small to moderate sized mid-period SW swell is expected to fill in along with a building SE windswell as winds switch to the SE and strengthen.
The mid-period swell will be produced by a relatively weak but broad polar front firing up on the back of the current strong low.
Size wise we're looking at 3ft sets on the Surf Coast, 4-5ft to the east on Friday with possibly light winds at dawn before that SE'ly kicks in. Onshore E/SE-SE winds and small levels of SE windswell look to persist on Saturday ahead of a possible SW change on Sunday, opening up a couple of locations for a surf.
Longer term it looks like we'll enter a run of small and average surf as a large blocking high sets up across our swell windows from the weekend and into next week. More on this Wednesday though.