Wednesday, 11 December 2019
Picking the eyes out of a dud spud
Victoria Forecast by Craig Brokensha (issued Wednesday 11th December)
Best Days: Desperate surfers Surf Coast Friday and Sunday mornings, Monday morning, exposed beaches Tuesday morning
Recap
Poor surf across all regions yesterday with strengthening onshore winds and a mix of swells, a little bigger this morning but still generally poor.
This week and weekend (Dec 12 - 15)
The coming days are marginal at best but you may be able to hunt out a small, clean runner.
Cleaner conditions are expected tomorrow across the Surf Coast with an early W/NW breeze, but today's mix of swells are due to fade, leaving tiny waves. Winds will then shift SW mid-morning and strengthen from the S/SW into the afternoon.
A new SW swell is expected to fill in Friday, produced by a small and weak but persistent front moving through our swell window today and tomorrow.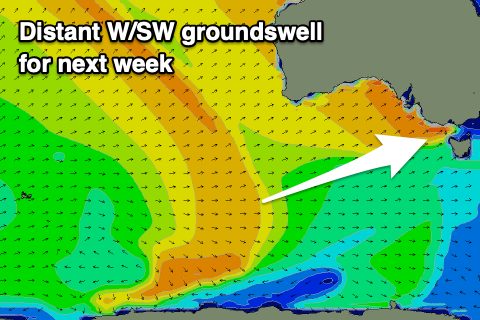 A small kick in size to the 2ft range is due on the Surf Coast, 3ft to occasionally 4ft to the east and a morning W-W/NW breeze will favour the former, shifting S/SW later morning and strengthening into the late afternoon.
Come Saturday a touch less size is due, with a secondary weak pre-frontal fetch of W/NW winds generating a small reinforcing W/SW swell to 1-2ft on the Surf Coast and 3ft to the east. There might be a touch more size into the afternoon but a morning W'ly breeze will shift S/SW later morning and freshen into the afternoon.
Sunday morning isn't looking too much stronger with a small 2ft wave on the Surf Coast, 3ft to possibly 4ft to the east with a morning W/NW wind, giving into S/SE sea breezes.
Come Monday our inconsistent long-range W/SW groundswell is still on track, with a tight and strong low forming north of Heard Island yesterday now spawning into a fetch of W/NW gales, pushing east-southeast through our distant swell window.
The storm will weaken slowly south-southwest of WA tomorrow, with the inconsistent groundswell due to arrive very late Sunday but peak through Monday. Inconsistent 3ft sets are expected on the Surf Coast swell magnets, 4-5ft to the east.
Winds look to have a W/NW tendency again but we may see more variable breezes on the Mornington Peninsula early but we'll have to review this on Friday. S/SE sea breezes are due into the afternoon so there may be a window just before these kick in.
Tuesday looks better with a N/NE offshore, but smaller, easing inconsistent swell from 3ft to hopefully 4ft on the exposed beaches.
Longer term there's nothing too significant on the cards but we'll reassess this Friday.