Friday, 6 December 2019
Make the most of the weekend
Victoria Forecast by Craig Brokensha (issued Friday 6th December)
Best Days: Protected spots tomorrow morning, exposed beaches from mid-morning Sunday
Recap
A continuation of pumping reef waves on the Surf Coast yesterday, and even hanging in bigger than expected this morning. Surf mostly to 4-5ft with favourable winds, bigger to the east but best in protected spots. Winds will start shifting W/SW late morning-midday so make the most of this morning.
All this constant wintery activity is due to the Sudden Stratospheric Warming event in early September.
This weekend and next week (Dec 7 - 13)
We've got plenty of swell on the cards for the weekend, with a new S/SW swell due to fill in this afternoon and hold tomorrow morning. This is being generated by a broad and final frontal system projecting a fetch of strong W/SW-SW winds through our southern swell window today, right off Tasmania.
Seeing the size that's still hanging in this morning we should see easy 4ft sets hanging in on the Surf Coast, likely up to 5ft on the swell magnets, easing slowly through the day and around the 6ft range to the east.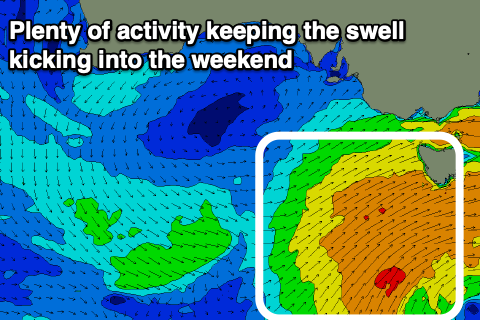 Winds look great through the morning for protected spots with a W/NW breeze, shifting S/SW late morning and strengthening into the afternoon.
The swell will drop more rapidly through Sunday, down from 3ft on the sets across the Surf Coast, to 2ft into the afternoon and 4ft to the east, down to 2-3ft. Winds should become variable Sunday morning and tend E/NE, favouring the beaches to the east of Melbourne. The dawny will likely be lumpy and morning sick, improving mid-late morning and best ahead of the sea breeze.
Fresher N/NE winds are due Monday but the swell will be all but gone, tiny on the Surf Coast and 1-2ft on the Mornington Peninsula.
As touched on through the week, there's nothing significant for most of next week with a large blocking high deflecting any major swell generating systems. There may be a slight kick in size Tuesday from a tight but short-lived low on the weekend to our south-west but not above 2ft on the Surf Coast and with W/SW tending S/SW winds, S/SE Wednesday as it eases.
Later in the week a broader but weaker front forming south-west of us is forecast to clip the state later Thursday and Friday, bringing onshore winds and possibly an increase in mid-period SW swell though without any major size. Therefore make the most of the weekend's waves! Have a great weekend.