Monday, 25 November 2019
Average week, increasing wind and swell from the weekend
Victoria Forecast by Craig Brokensha (issued Monday 25th November)
Best Days: Keen surfers Surf Coast Wednesday morning, less so Thursday morning, next week
Recap
A slow start to the weekend as expected with a new inconsistent W/SW swell due into the afternoon, though it didn't reach the expected size by dark across the Surf Coast.
The bulk of size was due Sunday across the state and while some locations reported the expected size (4ft Surf Coast and 6ft+ to the east) most of the reliable swell magnets that were cleaner underperformed. I upped the expected size a little going on how well last weekend's swell performed, but alas this weekend just gone came in under. There were still good waves about on the Surf Coast but mostly around 3ft.
The longevity of the swell is there though, with today still seeing 3ft+ waves on the Surf Coast magnets, 4-6ft to the east with local offshore winds.
This week and weekend (Nov 26 – Dec 1)
The coming days aren't too amazing in terms of surf, with tomorrow seeing the swell drop further in size along with freshening SW winds as a front moves through.
Torquay may see a dawn W'ly but conditions will be generally average and with small 2ft leftovers.
Our small pulse of inconsistent groundswell for Wednesday is still on track, though this was generated by a small and tight fetch of W/SW gales behind the storm linked to Saturday afternoon's swell.
With this not really providing much in the way of size, I wouldn't expect anything over 2ft+ on the Surf Coast and 3-4ft to the east, mixed in with some mid-period SW swell from tomorrow's change.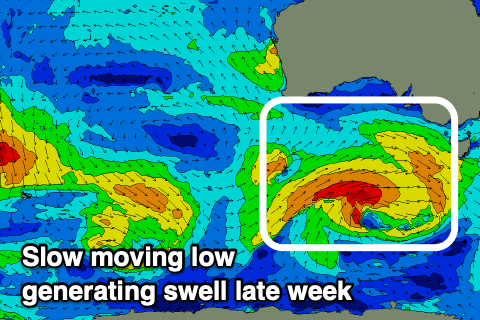 Winds should swing back to the NW, creating clean conditions, tending W/NW early afternoon ahead of sea breezes.
Thursday morning will start small with a W/NW-NW offshore ahead of a trough and S/SE'ly.
The surf should start to build back through later Thursday afternoon but more so Friday, with a mid-period SW swell due to fill in.
This will be generated by a relatively weak but sustained fetch of strong W/SW winds projecting towards us from south of WA tomorrow, onwards east to Tassie tomorrow and Thursday while slowly weakening.
The swell should arrive later Thursday but peak Friday with surf to 3ft (odd bigger one magnets) on the Surf Coast, 4-5ft+ to the east but with poor conditions under a moderate to fresh S'ly breeze.
Saturday won't be any better as the swell eases with onshore winds, strengthening as a strong and sustained polar frontal progression starts to take place to our south-west.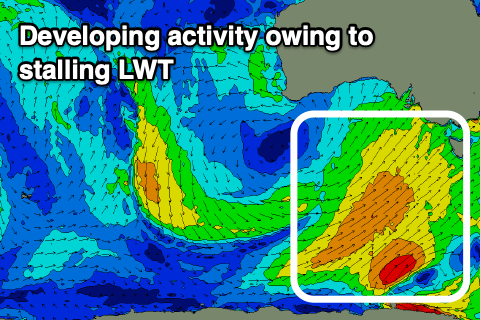 This will be related to a strengthening and stalling node of the Long Wave Trough forming over and then just east of us from late week, directing strengthening and broadening polar fronts up and across us.
We'll actually see a broad fetch of strong to gale-force S/SW winds drawn out from us to the polar shelf with a few stronger embedded bursts, generating building levels of SW tending S/SW swell from Sunday into next week.
Winds looks to swing from NW to SW with each passing front, but we'll look at this in closer detail over the coming updates.