Poor end to the week, much better from the weekend
Victoria Forecast by Craig Brokensha (issued Wednesday 20th November)
Best Days: Surf Coast late morning Saturday through mid-afternoon, Sunday morning Surf Coast, Monday morning
Recap
Yesterday's reinforcing pulse of SW swell provided a bit more size than expected, to 3ft on the Surf Coast and 4-6ft on the Mornington Peninsula with early clean conditions around Torquay, bumpy elsewhere and improving to the east into the afternoon.
The swell has eased off into today, back from 2ft+ on the Surf Coast and 3-4ft to the east with more favourable winds and conditions for exposed beaches. It was a bit morning sick early but has since straightened up.
This week and weekend (Nov 21 - 24)
Tomorrow still looks like a lay day, with Friday more than likely also being a miss, but there's a bit more swell expected.
With the swell bottoming out tomorrow along with strong N/NE winds, any surf left will likely be blown out. Winds will shift more N/NW through the early afternoon while easing slightly ahead of a strong SW change.
A lingering and moderate SW'ly is expected on Friday, likely W'ly early around Toquay along with a small mid-period W/SW swell.
The mid-period swell has been generated by a broad, but distant and relatively weak fetch of W/SW winds south-west of WA the last couple of days. Only a minimal 1-2ft wave is expected on the Surf Coast magnets Friday, 3ft+ to the east but onshore.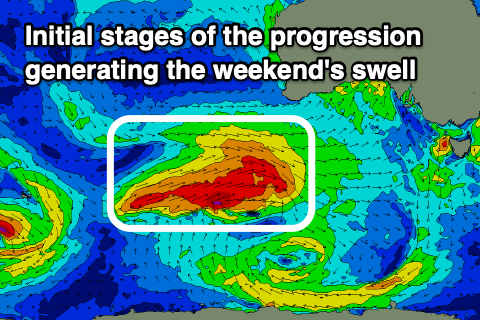 Of greater importance is the W/SW swell event into the weekend and early next week.
As pointed out on Monday, a strong and multi-staged frontal progression will roll in from the south-west of WA, forming today and continuing slowly east through the end of the week and weekend.
The initial stages of the progression will be strongest, with winds now forecast to be mostly gale-force today and early tomorrow, weakening as secondary fetches of strong W/SW winds push closer towards us and more into our western swell window on top an active sea state.
This will produce a moderate sized W/SW swell that's expected to build slowly Saturday and likely peak early Sunday, mixed in with mid-period energy on Sunday from the secondary front projecting towards us.
Saturday morning will start slow and only around 1-2ft or so on the Surf Coast with an offshore NW breeze, with the swell building slowly into the afternoon and reaching 3ft+ by late afternoon but with mid-afternoon SE sea breezes ahead of a stronger S/SW'ly change late afternoon.
Sunday is the pick with the peak in swells coming around 4ft on the Surf Coast (4-5ft swell magnets) and 6ft+ to the east (8ft cleanups swell magnets) with a light morning W/NW offshore, giving into S/SE sea breezes.
Next week onwards (Nov 25th onwards)
A flurry of smaller, secondary fronts pushing in from the west on the weekend will soften the easing trend into Monday, followed by a more distant and stronger polar low (generating a long-period and inconsistent swell for Wednesday) though coming back to Monday, winds will be great with local offshore N'ly breezes early, shifting W/NW late morning ahead of a S/SW change into the afternoon. Easing sets from 3-4ft are expected on the Surf Coast, 5-6ft to the east.
Tuesday will be smaller along with a possibly early W'ly around the Surf Coast, SW elsewhere. Wednesday's inconsistent swell should boost wave heights slightly to 2-3ft on the Surf Coast magnets and 4ft+ to the east with what looks to be early variable winds. More on this Friday and any change to the weekend's and Monday's outlook.