Weekend of swell, slower next week
Victoria Forecast by Craig Brokensha (issued Friday 15th November)
Best Days: Surf Coast Saturday morning, Surf Coast early Sunday, Monday, Tuesday morning Surf Coast, Wednesday morning exposed beaches
Recap
A continuation of great surf in protected spots west of Melbourne yesterday and today, with reinforcing pulses of mid-period swell to 3-4ft with W/NW winds. To the east it's been smaller in protected spots but still fun. Winds will hold out of the W/NW until mid-afternoon.
This weekend and next week (Nov 16 - 22)
There's plenty more swell and size on the way for this weekend, with mid-period energy due to strengthen a little into this afternoon, holding size and power tomorrow before easing slowly Saturday.
The weekend's swells will be generated by a broad and elongated fetch of strong W/SW winds that are being drawn out from us to below WA, acting on top an active sea state.
Size wise the Surf Coast should persist around 4ft on the sets, 6ft to the east tomorrow, with the chance for the odd sneaky bigger one at times across the swell magnets.
The easing trend will be slow with easing sets from 4ft and 6ft respectively Sunday morning, down further from 2-3ft and 4ft+ respectively Monday morning.
The mornings will be the pick on the weekend, with a moderate W/NW breeze tomorrow, shifting fresh SW-S/SW late morning, with Sunday looking not quite as clean with early W'ly breezes, shifting W/SW-SW mid-late morning and S/SW into the afternoon.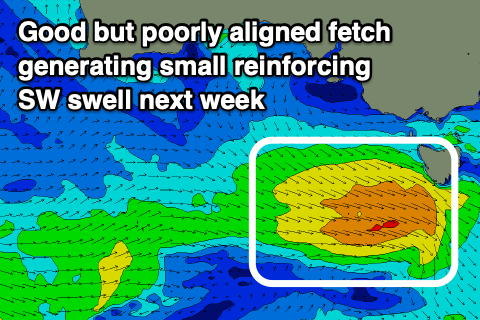 Monday looks cleaner with a N/NW offshore tending W/NW on the Surf Coast ahead of mid-late afternoon sea breezes, while to the east we should still see improving conditions with a variable N/NE breeze likely ahead of a late S/SE change. The window for OK waves will be small so keep your expectations low.
Into Tuesday a small pulse of reinforcing SW swell is due, generated by a strengthening but poorly aimed front moving in under the country on the weekend. Strong but broad W/NW winds will be generated, with the swell maintaining 2ft+ waves on the Surf Coast Tuesday, 3-4ft to the east. Morning W/NW winds will favour the Surf Coast ahead of S/SE sea breezes.
The beaches look the pick on Wednesday as winds shift around to the E/NE, but size wise, we'll be seeing small, easing 2ft to maybe 3ft sets on the Mornington Peninsula, 1-2ft on the Surf Coast.
Longer term a healthy polar frontal system to the south-west of WA is forecast to split while pushing east next week, strengthening while being deflected south-east, to the south-west of us next Thursday. The swell potential off this looks limited with a stronger mid-latitude front behind it. Either way the surf should increase again from Friday with plenty of energy into the weekend and early the following week, but more on this Monday. Have a great weekend!