Friday, 11 October 2019
South-east for the weekend, more activity from mid-next week
Victoria Forecast by Craig Brokensha (issued Friday 11th October)
Best Days: Beaches mid-morning to early afternoon tomorrow, Wednesday morning, Thursday morning
Recap
A very small window of clean conditions at dawn across the Surf Coast yesterday, poor elsewhere and succumbing to onshore winds quickly after in any case. A new S/SW groundswell filled in, and this is easing from 2-3ft on the Surf Coast today and 4-5ft to the east with moderate E/SE-SE winds. Conditions aren't great but workable.
Winds will strengthen through the day creating poor conditions.
This weekend and next week (Oct 12 – 18)
These notes will be brief as Ben's on annual leave.
We'll see winds strengthen from the E/SE through Bass Strait this afternoon and evening, kicking up a building SE windswell that's due to peak tomorrow morning to 3ft on the Surf Coast, with the Mornington Peninsula seeing a mix of easing S/SW swell to 2-3ft.
Conditions look poor at dawn with winds still fresh and gusty out of the E/SE, but we're due to see winds ease and tend more E/NE through the day, opening up some fun waves on the exposed beaches east of Melbourne as the SE windswell starts to ease.
Come Sunday more favourable NE winds are expected but the swell will be small to tiny, fading from 1ft to maybe 2ft on the Surf Coast, similar to the east. Therefore the pick of the weekend is mid-morning to early afternoon's Saturday.
There's no significant swell due into early next week with the surf remaining small to tiny with a moderate to fresh N/NE tending N/NW breeze Monday ahead of a late S/SW change. The Mornington Peninsula may offer very infrequent 1-2ft sets, but I'd expect it to be near flat with background swell energy generated in our far swell windows and having no size.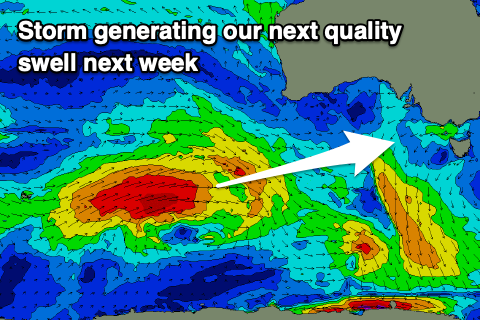 The next considerable swell is due to arrive very late in the day Tuesday but more so Wednesday, as talked about last update. This swell will be produced by a distant polar low forming around the Heard Island region last night, generating a fetch of severe-gale W/SW winds, expanding in scope while projecting east-northeast towards WA.
The storm will break down south of WA on Sunday but then continue slowly east-southeast through our south-western swell window in a much weaker form early next week, generating some reinforcing SW swell for Thursday, but only mid-period.
Looking at the size of the groundswell and when it peaks on Wednesday and the Surf Coast should see 3ft+ sets, though inconsistent with long waits in between. The Mornington Peninsula should see 5-6ft sets and winds are looking a little better. In the wake of a trough Tuesday we may see variable tending E/NE winds through the morning, though we'll have to confirm this Monday.
Thursday looks better on the Surf Coast with a fresh W/NW tending SW breeze as a strong front pushes through and easing surf from 3ft+ and 4-5ft respectively.
Longer term a significant polar frontal system is forecast to develop south of the country later next week by both ECMWF and GFS, generating what at this stage looks to be moderate to large SW-S/SW groundswell for next weekend. With the close proximity of the storm, winds look generally from the south-western quadrant, but more on this Monday. Have a great weekend!