Friday, 13 September 2019
Fun weekend, significant swell next week
Victoria Forecast by Craig Brokensha (issued Friday 6th September)
Best Days: Both regions Saturday, Surf Coast Sunday, Surf Coast early Monday, Wednesday and Thursday experienced surfers
Recap
A temporary drop in swell yesterday morning as we fell in between long-period swells and winds had a bit more north in them, but on the strong side for the Mornington Peninsula, better on the Surf Coast. The swell kicked through the morning back to 4-5ft on the sets across the Surf Coast swell magnets, while the afternoon was poor with a strong SW change.
Today winds have shifted back to the W/NW cleaning up all locations along with a reinforcing swell keeping the Surf Coast around 3-4ft, 4-6ft to the east.
Today's Forecaster Notes are brought to you by Rip Curl
This weekend and next week (Sep 14 – 20)
The surf will ease a bit more in size and power into the start of the weekend, with today's reinforcing swell fading, slowed by a weak front pushing through this afternoon and evening, generating an additional mid-period swell.
3ft sets should persist across the Surf Coast magnets all day, 4-5ft to the east and winds will be favourable for all locations through the day. A morning W/NW breeze is expected to shift N/NE into the afternoon, opening up options to the east through the day.
A temporary low point in swell is expected Sunday morning, though likely not below 2-3ft and 4ft respectively across the Surf Coast and Mornington Peninsula with a fresh morning N/NW breeze.
Into the afternoon a mix of long-period W/SW groundswells are due, the first and least consistent produced by a vigorous frontal progression in the southern Indian Ocean this week.
The remnants of this progression are currently south-west of WA, with an unfavourable but strong fetch of severe-gale NW winds due to be generated in our swell window today, followed by a weaker fetch of W'ly gales early tomorrow.
Size wise, we should see the mix of W/SW groundswells building later Sunday afternoon, kicking to 3-4ft by dark on the Surf Coast and 6ft on the sets to the east. Winds will shift W/NW into Sunday afternoon with a possible late afternoon S'ly change, though we may see this delayed until near dark if we're lucky.
The remnants will strengthen south-west of us on Sunday, with a fetch of W/SW-SW gales generated through our southern swell window, producing a moderate to large sized SW tending S/SW groundswell for Monday and Tuesday morning.
Conditions won't be too flash though with fresh and gusty SW tending S/SW winds, likely W'ly early around Torquay Monday morning. Size wise the Surf Coast should see 4-5ft waves in the morning, possibly reaching 6ft on the sets into the afternoon, 6-8ft to the east.
Tuesday will see the S/SW groundswell easing from 4-5ft+ on the Surf Coast and 6ft+ to the east with less than ideal E/NE winds ahead of sea breezes.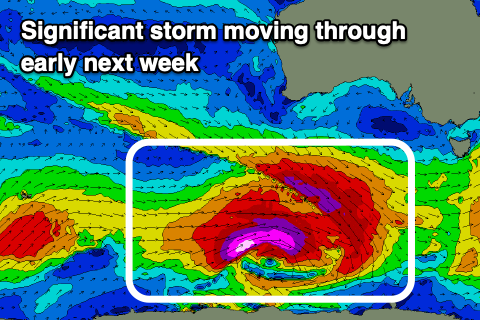 Of greater importance is a very significant polar storm forming in the wake of the weekend's activity.
This storm will develop south-west of WA on Sunday, with a pre-frontal fetch of severe-gale W/NW winds priming the sea state for a post-frontal fetch of storm-force W/SW winds, tracking east along the polar shelf through our south-western swell window before passing under Tassie on Tuesday.
This is quite a significant storm and a large, long-period and powerful SW groundswell will be generated, building later Wednesday and likely peaking under the cover of darkness, easing slowly Thursday.
The swell is due to peak to 6-8ft+ on the Surf Coast and around the 10ft range on the Mornington Peninsula, but overnight, with later Wednesday likely seeing a strong kick to 4-5ft and 6ft to possibly 8ft to the east, easing Thursday from 6-8ft and 8-10ft respectively.
With the storm remaining at polar latitudes, winds will open up some interesting options for experienced surfers, gusty from the N/NE-NE Wednesday, stronger N/NE Thursday as it eases.
Following this a strong polar front come mid-latitude low through next week should generate a moderate to large W/SW groundswell for next weekend, but more on this Monday. Have a great weekend!