Wednesday, 7 August 2019
Tricky winds and swells, but large from the south Sunday
Victoria Forecast by Craig Brokensha (issued Wednesday 7th August)
Best Days: Surf Coast tomorrow morning, protected spots on the Surf Coast Friday, late Saturday Surf Coast, super protected spots Sunday, Surf Coast Tuesday
Recap
A small to tiny and easing swell yesterday, cleanest on the Surf Coast and a bit too windy to the east.
This morning we've got a building mid-period W/SW tending SW swell, only 1-2ft on the Surf Coast and 2-3ft on the Mornington Peninsula but we should see sets reaching 3ft and 4-5ft respectively through the day. Cape Sorell has risen nicely so keep an eye on developments. Winds are also forecast to go variable from the north opening up plenty of fun options.
Today's Forecaster Notes are brought to you by Rip Curl
This week and weekend (Aug 8 - 11)
The late forming mid-latitude low linked to today's pulse of mid-period swell is now moving across Tasmania, and we'll see the swell dropping through tomorrow. The Surf Coast should see 2-3ft sets early, 4ft or so to the east though a gusty W/NW wind will only favour protected spots.
Our new inconsistent W/SW groundswell for Friday is still on track, generated by a strong and slow moving frontal progression through the southern Indian Ocean since late last week. Inconsistent but good 3ft sets are due across the Surf Coast with 4-5ft+ sets to the east, but what's worth pointing out is an incorrect spike in swell for the AM.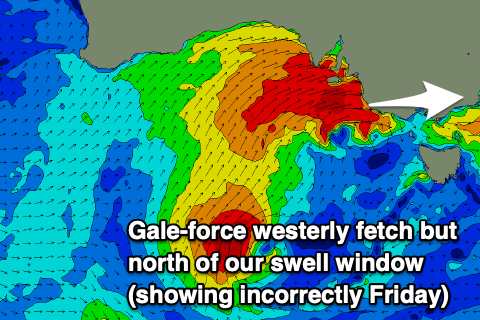 The models are picking up a big jump in W'ly swell which won't get into Bass Strait, with it generated north of our swell window and blocked by Cape Otway as shown in the image right. The latest updates have a small burst of gales pushing through Bass Strait Friday morning, but this likely won't produce any additional size on top the groundswell.
Looking at the local winds and it's tricky as the trough pushes through Friday morning, bringing strong W/SW-W winds, but the Surf Coast will likely see winds tending W/NW at periods through the day (not ideal).
In the wake of Friday's front we're due to see a strengthening polar front project up from the south-southwest on Saturday, with strong S/SW winds right off Tasmania's West Coast due to strengthen to severe-gale-force as the front pushes up and into us Saturday afternoon and evening.
We'll likely see a mix of swells around 3ft, kicking very late in the day. Winds will change through the day with a morning and strong SW breeze due to tend W'ly later in the afternoon as the front pushes up closer to us.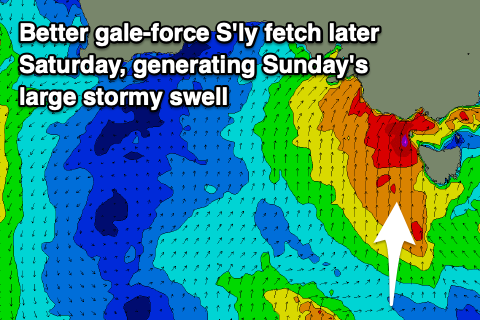 Sunday will reveal all the size though with a mix of groundswell and mid-period S/SW swell coming in at stormy 6ft on the Surf Coast and 6-8ft on the Mornington Peninsula with strong S/SW winds.
The swell is expected to start easing into the afternoon, but steady Monday as another less favourably and weaker polar front pushes up and into Tasmania on Sunday and early Monday.
This will keep conditions average to poor with a fresh and gusty SW'ly along with moderate levels of mid-period S/SW swell.
From Tuesday the wind and weather will start to improve as a high moves in from the west, swinging winds W/NW on the Surf Coast with easing 3-4ft sets out of the S/SW and 6ft waves to the east.
This high will block our close-range swell windows, resulting in the swell dropping through the rest of the week as winds shift more N'ly ahead of a possibly change Friday. A new inconsistent W/SW groundswell is expected into Thursday afternoon and Friday, produced by a slow moving low in the southern Indian Ocean. Whether winds hold from the north by the time the swell arrives is to be seen.