Friday, 15 March 2019
Here's that easterly pattern you've all been asking for
Victorian Surf Forecast by Ben Matson (issued Friday 15th March)
Best Days: Entire period: favourable conditions east of Melbourne under a persistent E'ly pattern.
Recap: Thursday offered great waves east of Melbourne with rapidly easing size from Wednesday and light winds. A small reinforcing pulse pushed into the coast overnight and winds are still light, though size will slowly ease throughout the day.
This weekend (Mar 16 - 17)
Today's Forecaster Notes are brought to you by Rip Curl
*this week's Forecaster Notes will be occasionally brief and erratic, as Craig is on annual leave - to receive notification when they're updated, please update your account preferences*
We're on the cusp of an extended period of E'ly winds, thanks to a blocking pattern setting up camp across our immediate swell window. This will be in the form of a broad high pressure ridge stretching from below southern Western Australia, underneath South Australia and Tasmania into the Southern Ocean below the Tasman Sea.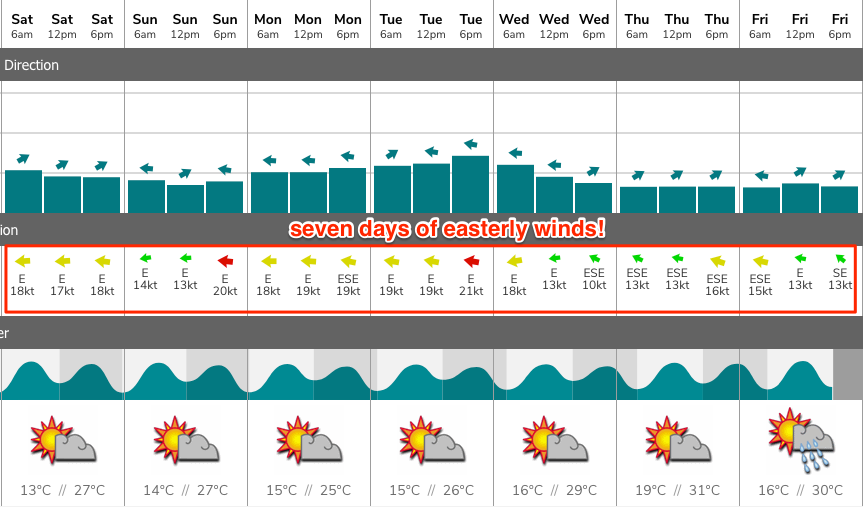 This will deflect approaching frontal systems to the south toward the ice shelf, but more importantly at a local level, will maintain E'ly winds across coastal Victorian waters for some time, in conjunction with an inland trough of low pressure. The latest model guidance suggests we may not see a break in this pattern until next weekend.
As for the coming weekend, we're looking at easing residual swells from the Southern Ocean, plus a small local SE windswell across the Surf Coast (mainly influencing the western end). Exposed beaches east of Melbourne will be the biggest beneficiary with clean 3-4ft surf early Saturday easing to 2-3ft during the day, persisting at small levels into Sunday.
The Torquay region of the Surf Coast through to the Bellarine may see slack periods over the weekend (with little E'ly wind) but it'll probably see the effects on the surface anyway, with slightly lumpy conditions at best (choppy at worst). Surf size will ease from an inconsistent 2ft+ early Saturday down to 1ft by Sunday though the local SE wind swell may contribute a couple of feet of low quality swell, more likely Sunday than Saturday. The local E'ly breeze will be more prominent west from Torquay.
Next week onwards (Mar 18 onwards)
At this stage we're looking at some kind of E'ly pattern holding through until Friday. Periods of lighter winds are likely in and around this time frame but you'll have to be mindful of the ongoing effects of this synoptic pattern (west of Melbourne) and the implications of a lack of northerly or westerly airstream, relative to local conditions.
As for surf potential, our far swell window is expected to see a conveyor-belt of reasonable systems through the Southern Indian Ocean into the South Ocean below Western Australia (before they're steered to the Ice Shelf by the high pressure ridge). This will create an extended period of small pulsey swells all week, bookended by an initial peak in size later Monday and early Tuesday, and then again around Friday.
We'll also see small local SE windswell - mainly confined to the Surf Coast - all week. No great size or quality is expected from this source though.
Underlying size in Torquay should manage a very inconsistent 2ft or so at exposed beaches all week, with bigger surf later Monday and Tuesday (3ft) and Friday (3-4ft), whilst east of Melbourne should see persistent 3-4ft surf all week, with the late Mon/Tues peak likely to push 4-5ft+, and Friday's increase pushing 6ft+.
As the block breaks down later next week we're more likely to see a resumption in typical autumn frontal patterns - and thus larger swells generated more close to the region - from next weekend onwards. More on this in Monday's update.