Friday, 12 October 2018
Good winds but minimal surf
Victoria Forecast by Craig Brokensha (issued Friday 12th October)
Best Days: Exposed beaches Saturday morning, later Tuesday exposed beaches, Surf Coast magnets Wednesday morning for keen surfers
Recap
A continuation of poor conditions across the Surf Coast yesterday with fresh to strong E/SE winds and a junky SE windswell, surfable across the Mornington Peninsula and fun at Woolies during the morning, average into the afternoon.
This morning winds have improved across all locations with a drop in size, but we should see our new SW groundswell building to 3ft on the Surf Coast and 4-5ft on the Mornington Peninsula. It's hit Cape Sorell and will fill in towards a peak this afternoon as winds swing E/SE and then SE.
Today's Forecaster Notes are brought to you by Rip Curl
This weekend and next week (Oct 13 - 19)
One look at the top end of the forecast graph for the coming period will give you an idea on the outlook ahead.
This afternoon's SW groundswell is due to ease through tomorrow while tending a little more S/SW in direction, with 2ft to possibly 3ft sets at swell magnets on the Surf Coast early, and 3-4ft sets to the east, smaller into the afternoon.
Winds will be great for exposed beaches with a morning N/NE offshore, tending E/SE mid-late afternoon.
Similar though persistent N/NE winds will be seen Sunday but the Surf Coast will become tiny with possibly the odd leftover 2ft wave on the Mornington Peninsula.
Monday will again see fresh N/NE winds but with no real size, tiny to flat on the Surf Coast and with the odd 2ft'er on the Mornington Peninsula.
As touched on last update, small and inconsistent long-range W/SW groundswells are due across the region from Tuesday, generated by strong storms firing up south-west and west-southwest of WA.
The first and smallest W/SW swell is due to build through Tuesday and Wednesday, generated by a distant polar low that formed in the Heard Island region earlier this week, with a distant fetch of W/SW gales produced in our western swell window.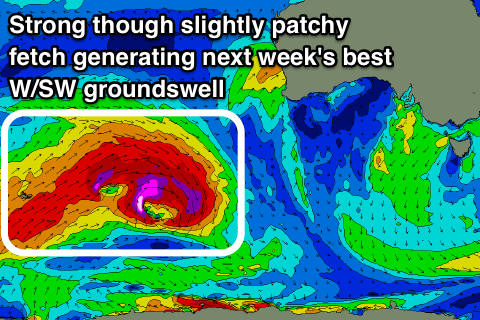 The Surf Coast is only expected to build to a very inconsistent 2ft across swell magnets into the afternoon and 3ft on the Mornington Peninsula along with favourable N/NE winds holding most of the day.
The swell should hold a similar size into Wednesday morning as winds swing NW and then W'ly as a weakening mid-latitude low moves in slowly from the west.
Unfortunately it looks like the low will bring onshore S/SW winds into Thursday as the best pulse of W/SW groundswell fills in, generated by the most significant of the storms firing up south-west of WA this weekend.
We'll see a pre-frontal fetch of severe-gale W/NW winds immediately followed by post-frontal (though patchy) severe-gale to storm-force W/SW winds in our western swell window, generating a moderate sized long-period W/SW groundswell for Thursday.
The Surf Coast magnets should see sets mostly to 3ft, if not for the rare bigger one, with 4-5ft+ waves to the east but with that onshore wind.
Easing surf with better winds could be seen Friday, but more on this Monday. Have a great weekend!