Friday, 16 March 2018
Great waves tomorrow, large swells for next week
Victoria Forecast by Craig Brokensha (issued Friday 16th March)
Best Days: Both coasts Saturday, Surf Coast Monday, east of Melbourne later next week
Recap
Great waves across the Surf Coast yesterday morning with a reinforcing SW groundswell and morning offshore W/NW winds, good also around Phillip Island.
This morning conditions were average on the Surf Coast with E/SE-SE winds and we were in between swells with a new large S/SW groundswell due not in at dawn. Since we've seen the swell building across the region but it's not great. Cape Sorell is looking good and we should see sets to 5ft, with 6-8ft waves on the Mornington Peninsula.
Today's Forecaster Notes are brought to you by Rip Curl
This weekend and next week (Mar 17 - 23)
Today's building S/SW groundswell should ease over the weekend, with great conditions across most locations tomorrow.
A moderate to fresh N tending N/NW breeze will favour the beaches through the morning ans Surf Coast reefs into the afternoon as our S/SW groundswell drops from 3ft+ on the Surf Coast and 4-5ft on the Mornington Peninsula.
Sunday will be average with fresh NW tending strong W winds along with small fading sets on the Surf Coast, choppy to the east. This strong W'ly wind will be linked to a strong front pushing through Bass Strait, with a stormy increase in windswell due across exposed spots into the afternoon, 2-3ft on the Surf Coast.
Sunday's front will be the first of a series of vigorous storms pushing through the Southern Ocean under the influence of a strong new node of the Long Wave Trough pushing across us.
An initial burst of gale to severe-gale W/SW winds Sunday should generate the afternoon/evening kick in size, holding Monday morning ahead of a much larger increase into the afternoon.
This will be produced by a secondary better aligned fetch of severe-gale W'ly winds racing in from the west Sunday, on top an active sea state.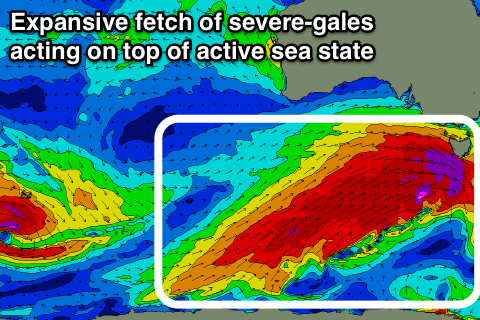 Extending out behind this mid-latitude fetch will be an expansive fetch of severe-gale SW winds nearly the size of Australia stretching from south-southwest of WA all the way to Tassie. This and an embedded fetch of storm-force winds projecting towards the south-east of the country on top of the very large active sea state will result in a very large swell for Tuesday afternoon/evening.
Coming back to the expected sizes and the Surf Coast Monday morning looks to be 3ft+ (4ft at 13th Beach) with 6ft surf on the Mornington Peninsula, building to 4-6ft and 8ft respectively later in the day.
Tuesday will then see large 6ft+ waves on the Surf Coast through the morning, 8-10ft on the Mornington Peninsula ahead of the largest pulse later in the day and Wednesday morning which looks to be around 8ft on the Surf Coast and 10ft+ on the Mornington Peninsula.
We'll have to have another look at how the storms resolve themselves over the weekend, but in any case we're looking at a very large swell event early-mid next week.
Now, winds on Monday look great for the Surf Coast with a fresh and gusty W/NW breeze persisting all day, followed by poor and gusty SW tending S'ly winds Tuesday as a high quickly moves in following.
Wednesday looks poor with the large easing SW groundswell and gusty E/SE winds, leaving very limited options. The high will also be slow moving resulting in fresh E/NE winds through Thursday and Friday as the swell continues to ease. More on this Monday, have a great weekend!