Continuous W/SW swells with favourable winds
Victoria Forecast by Craig Brokensha (issued Monday 30th January)
There's only TWO DAYS left to sign up for the P-Pass competition! Sign up to Swellnet's newsletter and receive the Victorian Forecaster Notes and latest news sent directly to your inbox. Upon signup you'll also enter the draw to win a surf trip to P-Pass for you and a mate. It doesn't get much easier so click HERE to sign up now.
Best Days: Both coasts Wednesday morning, Surf Coast Thursday morning through Sunday morning (east of Melbourne Sunday morning)
Recap
A good pulse of W/SW groundswell on Saturday to 2-3ft in Torquay and 3-4ft at 13th Beach along with offshore winds, and 3-5ft+ waves on the Mornington Peninsula.
An onshore change moved through mid-morning, creating poor conditions for the rest of the day.
Sunday saw similar amounts of swell through the morning with variable winds and cleaner than expected conditions across both coasts, before weak SE winds kicked in.
A new pulse of W/SW swell for the afternoon looks to have come in a little under expectations, easing back into this morning leaving small 2-3ft sets at exposed breaks on the Surf Coast and 3-5ft on the Mornington Peninsula. Conditions were good again across both coasts but a NW change is now moving in from the west.
This week and weekend (Jan 31 – Feb 5)
Through this week and weekend we'll continue to see small to moderate pulses of W/SW swell across the state, generated by persistent weak mid-latitude frontal activity south-west of and under the country.
The size will ebb and pulse day to day with each different swell, but not dropping below 2-3ft on the Surf Coast and 3-5ft on the Mornington Peninsula for the most part.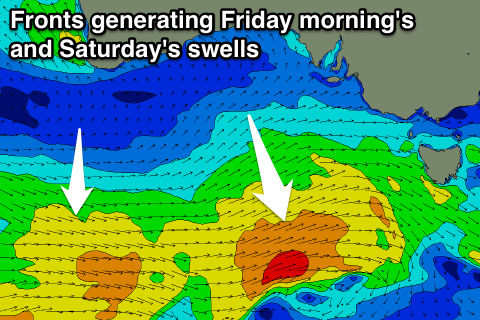 The first pulse of swell due tomorrow was generated by a mid-latitude low late last week and over the weekend, moving in from the south-east Indian Ocean.
This swell will be the strongest and longest period, with it due to fill in tomorrow and peak through the afternoon.
We should see the Surf Coast's magnets reaching 3ft+ into the afternoon with 6ft sets on the Mornington Peninsula.
This swell will ease Wednesday, but only to be replaced by a mid-period W/SW swell from a broad and strong fetch of W/SW winds moving in under the Bight today and south-west of us tomorrow.
Good 3ft waves should persist on the Surf Coast Wednesday (5-6ft Mornington Peninsula), smaller into Thursday morning.
Later Thursday and more so Friday, a new pulse of W/SW groundswell is due, produced by a strengthening mid-latitude front under the Bight Wednesday.
Winds will nearly reach the gale-force range, producing a slightly stronger groundswell that may be seen later Thursday, peaking Friday morning.
Consistent surf to 3ft is again expected on the Surf Coast with 5-6ft sets on the Mornington Peninsula, followed by yet another reinforcing increase Saturday, a touch smaller Sunday.
The frontal activity looks to quieten down through the weekend and the swell will along with it.
Coming back to the winds, and W/SW winds are due across the coast tomorrow, but there's a good chance for a lighter W'ly early around Torquay.
Wednesday will be cleaner with a light NW offshore on the Surf Coast and variable winds to the east.
Thursday will see a little more strength in the offshore W/NW'ly ahead of a late morning W/SW change, while offshore W/NW-NW winds will last all morning Friday, similar Saturday.
Sunday should see better N/NE winds on the Mornington Peninsula, but we'll review this Wednesday.