Best Sunday, good Monday with an inconsistent but strong building swell
Victoria Forecast by Craig Brokensha (issued Friday 6th November)
Best Days: Keen surfers Torquay early Saturday, both coasts Sunday and Monday, both coasts Thursday
Recap
No real SE windswell left across the coast yesterday morning as the fetch through Bass Strait evaporated leaving fading 1-1.5ft sets under N/NE winds, while the Mornington Peninsula didn't see much either with a background SW groundswell to 1-2ft or so.
Today a new mix of SW groundswells are filling in with good 2-3ft sets on the Surf Coast 4-5ft sets across the Mornington Peninsula this morning, but a fresh SW change is yet to be seen with variable winds and fun conditions across selected breaks. We should see the swell kick further to 3-4ft and 6ft+ respectively across both coasts but with deteriorating conditions as that change pushes through.
This weekend (Nov 7 - 8)
With today's onshore change delayed, the period and chance of possible W/NW winds tomorrow around Torquay has been diminshed.
There's still a good chance for a period of W/NW winds around Torquay, worth an early surf with easing 3ft sets, but check local obs before hitting the highway. A shift to the SW is due 8am or so, creating poor conditions for the rest of the day. The Mornington Peninsula will easy from a messy 6ft.
Sunday should be fun and looks to be cleaner with light variable (likely local offshore) winds due with easing 2-3ft sets on the Surf Coast and 4-5ft+ waves on the Mornington Peninsula. Afternoon SE sea breezes will create bumpy conditions after lunch.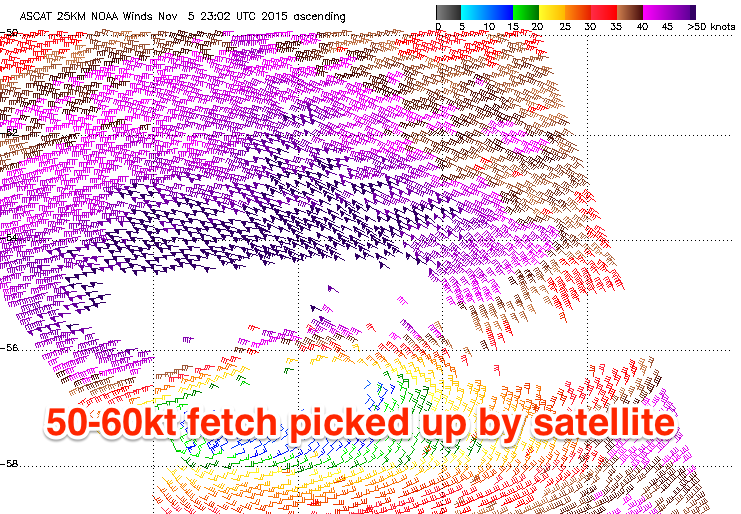 Next week onwards (Nov 9 onwards)
Monday afternoon's strong kick in long-period and inconsistent SW groundswell is still on track, with a 'bombing low' south-west of WA generating a storm-force W'ly fetch in our far swell window. Satellite observations confirm this fetch with 50-60kt barbs recorded, but not quite to the hurricane-force strength.
The low will track east-southeast while slowly weakening today, leaving a strong, inconsistent SW groundswell to spread up towards us for Monday. The long-period forerunners around 21-22s are due to hit Cape Sorell Sunday evening, with the bulk of the swell filling in around the 16-17s range Monday afternoon across our coasts.
Early Monday will likely be very slow with inconsistent 2-3ft sets on the Surf Coast and 4-6ft waves on the Mornington Peninsula ahead of a strong afternoon kick to 3-5ft and 6-8ft respectively across both coasts. Conditions should be great across both coasts Monday morning with local offshore breezes, while only a weak and shallow SW change is due through the mid-afternoon, so conditions should be workable as the swell starts to muscle in proper.
We've got plenty of moderate sized W/SW groundswell to follow into Tuesday and Wednesday across the coast due to a broad and elongated fetch of strong to gale-force W/SW winds trailing the 'bombing low'. The Surf Coast should hold around 3-4ft Tuesday, kicking a touch bigger through the afternoon and then easing slowly from 3-4ft Wednesday morning. The Mornington Peninsula should ebb and pulse between 6-8ft, dropping form this size Wednesday morning.
Unfortunately the poor winds forecast Wednesday are still on the cards with a stronger S/SE breeze due into Tuesday in the wake of Monday's weak change, followed by strong E'ly winds into Wednesday, kicking up some new SE windswell across the Surf Coast.
Thursday will be the day to surf with easing peaky 2-3ft waves on the Surf Coast and 4-5ft+ sets on the Mornington Peninsula under fresh N'ly winds.
Longer term a mix of good sized W/SW groundswells are due next weekend but with what looks to be SE winds, more on this Monday. Have a great weekend!