Monday, 13 July 2015
Average outlook, best Tuesday/Wednesday
Victoria Forecast by Craig Brokensha (issued Monday 13th July)
Best Days: Tuesday Surf Coast, Wednesday morning both coasts, Sunday east of Melbourne
Recap
Very slow start to the weekend on the Surf Coast with small to tiny, but clean waves, ahead of a new pulse of W/SW groundswell into the afternoon. This reached an inconsistent 3ft on the sets at swell magnets (photos right by Shan Aust), while the Mornington Peninsula provided good surf on the beaches.
Sunday the better but tricky W/SW groundswell expected, failed to really show any further size, with the surf actually easing back a touch. Conditions were only workable for a short period before an onshore change moved through.
Today a mix of poor swells were breaking across both coasts with fresh to strong onshore winds.
This week and weekend (Jul 14 – 19)
Tomorrow is the pick of the forecast period, with a mix of short-range S/SW swell and new long-range but good SW groundswell.
Both swells are due to come in around the 3ft+ range across the Surf Coast and 6ft+ on the Mornington Peninsula, and an approaching front will swing winds offshore from the W/NW-NW through the day ahead of late shift back to the W/NW, favouring the Surf Coast.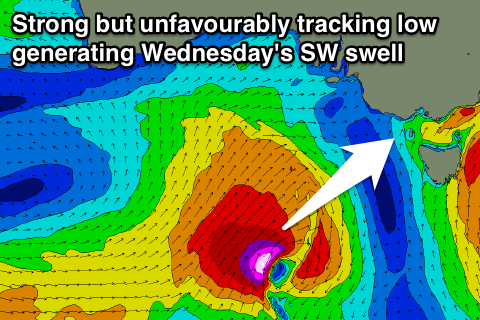 Into Wednesday we're due to see a good new pulse of SW groundswell, produced by a deepening and favourable tracking polar low towards us today and tomorrow morning before it pushes off unfavourably into SA.
Still we should see a bigger kick in size for Wednesday, coming in at 3-4ft+ on the Surf Coast and 6-8ft on the Mornington Peninsula through the morning.
Winds are the tricky ones though, with the models divergent on where the lows axis will sit. This will result in mainly variable breezes, but possibly from the NE, favouring locations east of Melbourne. Therefore check the local wind observations at Aireys Inlet and South Channel Island to make the call.
The afternoon will likely see winds swing SE or onshore in some form, so surf through the morning.
The low responsible for the tricky winds Wednesday is due to move east through the end of the week, resulting in onshore winds from the SE Thursday and S/SW Friday, with a good pulse of moderate but inconsistent SW groundswell due on the later.
This will be produced by strong pre-frontal fetch of polar W/NW winds over the coming days.
The Surf Coast should see inconsistent 3-4ft sets Friday with 6ft+ waves on the Mornington Peninsula before easing from a similar size Saturday morning but as onshore winds persist.
Sunday should see winds improve and swing northerly with easing amounts of swell, favouring locations east of Melbourne.
Longer term there's nothing major on the cards until possibly mid next week in the form of a long-range but good W/SW groundswell. More on this Wednesday though.