Monday, 22 September 2014
East of Melbourne Tuesday/Wednesday, Surf Coast Friday
UNLESS YOU LIVE AT THE BEACH, PLEASE DON'T TRAVEL TO SURF
COVID-19 is changing the way we think about surfing. Travelling to the surf now means you're putting an unnecessary strain on the resources of small regional communities. So, please stay home. If you live near the beach and want to surf, please maintain a healthy spacing in the lineup, don't hang in the carpark, and keep your surf sessions shorter to allow others the opportunity to get wet. Above all, stay happy, healthy and look out for one another.
Victoria Forecast by Craig Brokensha (issued Monday 22nd September)
Best Days: Tuesday and Wednesday morning east of Melbourne, Friday and Saturday mornings on the Surf Coast, Sunday east of Melbourne
Recap
The only real chance for a decent wave across the Surf Coast was dawn Saturday with an early W'ly wind and small leftover 2ft of swell. Sunday morning saw more size but unfortunately a lingering S/SE'ly overpowered an local land breeze effects on the Surf Coast, while the Mornington Peninsula remained less than ideal.
Yesterday morning's long-range W/SW groundswell has since eased, with small and clean 2ft waves left over into this morning on the Surf Coast, while the Mornington Peninsula was great and in the 3-5ft range. The swell should to drop into this afternoon as sea breezes kick in.
This week (Sep 23 - 26)
The Mornington Peninsula will be the pick of the coast again tomorrow with small waves through the morning ahead of a long-range and very inconsistent W/SW groundswell through the day. This swell, generated in our far swell window isn't expected to get above an infrequent 2ft across the Surf Coast into the afternoon with 3-5ft waves on the Mornington Peninsula.
Winds should be good and locally offshore from the northern quadrant through the morning before tending variable into the afternoon.
A better S/SW groundswell for Wednesday, generated by a late forming but deep polar low to our south-west has been downgraded a touch, with the low forming even more later than ideal.
Still satellite observations have confirmed a fetch of storm-force W/NW winds within our swell window, with some S/SW swell spreading up radially from the low.
We should see this swell peaking Wednesday morning to an inconsistent 2ft+ on the Surf Coast with 3-4ft waves on the Mornington Peninsula under fresh N'ly winds ahead of a possible late afternoon change.
This change will be linked to a weak surface trough moving across us and with it we'll see poor and fresh SW tending W/SW winds on Thursday with another small building SW groundswell.
Friday is looking much better as winds revert back to the NW across the Surf Coast and W/NW along the Mornington Peninsula as another super long-range but good sized W/SW groundswell fills in.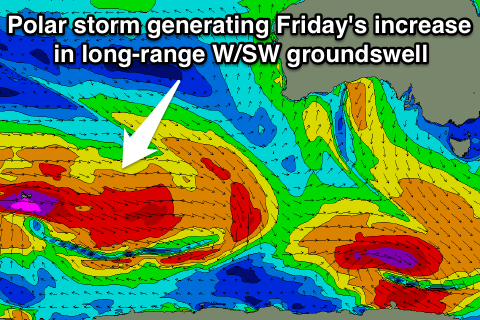 This swell has and is continuing to be generated in our far swell window to the south-west of WA, with a trailing and weakening front racing closer towards us and under the country tomorrow and early Wednesday.
A medium sized but inconsistent W/SW groundswell is expected, arriving early Friday and building through the day towards a peak into the afternoon.
The Surf Coast should build to an inconsistent 3ft+ with 4ft sets at swell magnets and 6ft+ sets developing on the Mornington Peninsula.
Winds will unfortunately go onshore from the W/SW at the peak of the swell, but the morning should still be fun.
This weekend onwards (Sep 27 onwards)
Friday afternoon's kick in W/SW groundswell will slowly back off into Saturday, with a reinforcing SW swell slowing the easing trend ahead of a more steady drop through Sunday.
The Surf Coast should ease from an inconsistent 3ft+ with 6ft sets on the Mornington Peninsula under NW tending NE winds and the stronger N'ly winds Sunday as the swell continues to drop.
Longer term we are looking at a larger W/SW groundswell for early to mid next week as a vigorous polar front is projected from the south-west of WA right up towards us early next week, but more on this Wednesday.