Good weekend at exposed coasts, bigger swells next week with snow
Victoria Forecast by Craig Brokensha (issued Friday 20th Jun)
Best Days: Saturday and Sunday, Tuesday onwards on the Surf Coast
Recap
A good mix of SW groundswell and longer-range W/SW groundswell filled in yesterday, offering inconsistent but good 3ft waves on the Surf Coast with 6ft+ sets on the Mornington Peninsula.
Today the swell has eased a touch to 2ft around Torquay with 3ft sets at 13th Beach and 4-5ft waves east of Melbourne as fresh N-N/NW winds blow across the state.
This weekend (Jun 21 - 22)
As touched on in Wednesday's notes, it looks like the models may be over-forecasting the size over the weekend a little on the Surf Coast.
A reinforcing W/SW swell due tomorrow was generated north of our swell window and in the Bight, and we're not expected to see much size from this at all. In saying this inconsistent levels of long-range W/SW should keep 2ft+ waves hitting the Torquay region tomorrow, with the possibility of the odd 3ft bomb at 13th. A drop in size is then due Sunday from 2ft.
The Mornington Peninsula should see more size to 4-5ft+ tomorrow before backing off from 3-5ft Sunday morning.
Winds will remain favourable for both coasts with fresh N/NW winds west of Melbourne and straighter N'ly winds to the east both Saturday and Sunday (even N/NE Sunday on the Mornington Peninsula).
Next Monday onwards (Jun 23 onwards)
Monday is still the day to miss with tiny amounts of swell and a strong N'ly tending N/NW breeze.
The timing of Tuesday's change has been delayed slightly, and with this so is the swell due off the strong cold outbreak across the south-east of the country.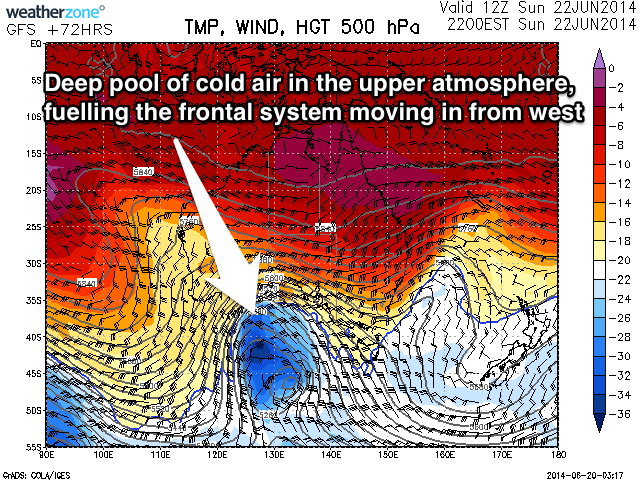 This could outbreak will be a result of a cold front crossing WA tomorrow, deepening as it pushes towards us through the Bight as it feeds off a large pool of cold air in the upper atmosphere (right).
What will result is the formation of a much stronger and broader storm which is expected to be focussed mainly into South Oz, and will push across us Tuesday afternoon/evening.
With the slowing of the system, winds won't be perfectly aimed within our swell window, and will initially actually sit right on the periphery of our swell windows making it tricky to forecast the size.
What we're likely to see is some medium-sized W/SW groundswell from a tight low-pressure centre at the base of the system, filling in Tuesday morning ahead of some larger short-range W/SW swell with the passing front later Tuesday and Wednesday morning. Heavy dumps of snow are also likely through next week.
Size wise the models look pretty spot on Tuesday morning, with 3ft surf due across the Surf Coast and larger 6ft+ waves on the Mornington Peninsula. The afternoon kick probably won't be until late and probably will just fall short of the 6ft range on the Surf Coast, with 8ft+ sets on the Mornington Peninsula. Winds will accordingly swing from a fresh to strong NW'ly around to the W/SW later, favouring the Surf Coast.
Wednesday is probably the day to surf with medium-large levels of W/SW swell expected to ease from 4-6ft on the Surf Coast and 8ft+ on the Mornington Peninsula as winds tend back to the W/NW with another approaching front.
This front should also bring with it another large kick in W/SW groundswell for Thursday afternoon and Friday as winds persist from the western quadrant. We'll review this all again on Monday though, so check back then for an update.