Flukey swell sources abound, but there'll be waves
Sydney Hunter Illawarra Surf Forecast by Ben Matson (issued Fri 29th Apr)
Forecast Summary (tl;dr)
Chance for a flukey long period S/SE swell on Sat, easing Sun (low probability though)
Mix of small NE and E/NE swells over the weekend
Minor S'ly swell Sun
Building E/NE swells next week, peaking late Tues/Wed (good winds Wed)
Flukey S'ly swells mid-late next week
Recap
Generally light winds and sea breeze over the last two days, with a peaky mix of small NE windswell (2ft) and S'ly groundswell (2-3ft).
This weekend (Apr 30 - May1)
Developing N'ly winds this evening are expected to become fresh and gusty through Saturday morning ahead of a NW tending W'ly change, probably from about late Saturday morning across locations north from Sydney, but earlier south from Sydney.
We'll see a small mix of swells from several sources, the most curious being some minor long period S/SE swell of whose origin I am kinda unsure of, as I've temporarily stepped back to the Forecast bench today.
However a quick scan of the hindcast charts (below) shows a phenomenal polar low well SE of New Zealand last Tuesday, generating a Code Red swell for Tahiti - but it's just on the periphery of our flukey SE swell window and will probably generate some small sideband intermittent energy for Australia's East Coast.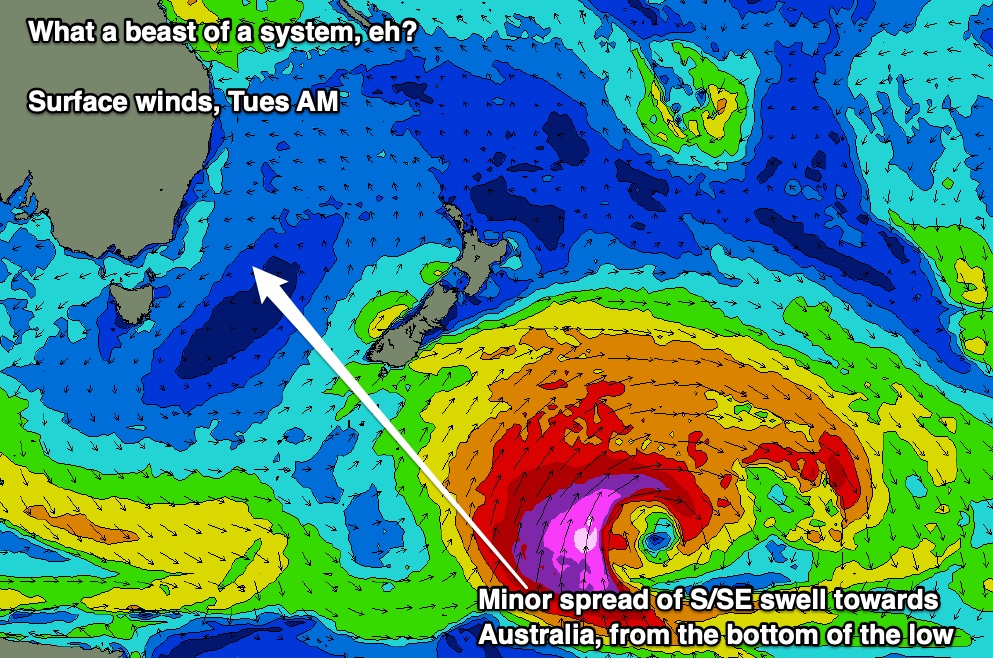 The raw data (half a metre at 14.5 seconds) suggests extremely inconsistent 3ft+ sets at regional swell magnets on Saturday, easing slowly through Sunday, but to be honest I'd be very way of anything from this source as the fetch developed very close to the NZ swell shadow, and quickly rotated away. So keep your expectations low and be pleasantly surprised if it produces anything at all.
Elsewhere there's a broad trade flow developing in the northern Tasman Sea and South Pacific that's going to provide a week of energy from the E/NE. We'll see a gradual build throughout the weekend but Saturday will probably be small and inconsistent in the 2ft range, Sunday a little bigger.
Additionally, the local N'ly flow off the coast should kick up 2ft+ windswell sets from the NE for Saturday (a touch bigger on the South Coast too, due to the longer fetch length), but it'll ease rapidly by Sunday.
Lastly, a brief gale force W/SW flow through eastern Bass Strait on Saturday may kick up some small S'ly swell for south swell magnets on Sunday, around the 2ft mark (slightly bigger through the Hunter around 3ft).
Winds will veer southerly then south-east overnight Saturday as an associated front clips the region, but Sunday morning will probably see rapidly improving conditions as a high moves in from the west, so expect lumpy conditions on the improve with generally light winds. Locations north from Sydney to the Hunter will be at risk of lingering onshore though, for a few hours at least.
Next week (May 2 onwards)
A tropical low between New Caledonia and Fiji this weekend will enhanced easterly winds within a broad trade flow, and consequently provide a boost in E/NE swell early next week.
First up: the weekend's swell will ease back into Monday and conditions should be clean with light winds. New E/NE swell should start filtering in through day (maybe some 3ft sets by the afternoon) but Tuesday is where we should start to see a little more oomph in the energy, around 4ft at exposed coasts, holding into Wednesday morning then easing back thanks to a re-alignment of the trade flow more towards the Coral Sea (which is off-axis for Southern NSW).
Still, we'll see user-friendly E/NE swell persisting for the rest of the week. In fact another trough is modelled to develop south of New Caledonia around Mon/Tues and could very well boost surf size again from this quadrant later in the week.
Elsewhere, and the Southern Ocean storm track is slightly off-kilter for our swell window, but strong fronts are expected across the Tasmanian region mid-week and so we'll probably see one or two southerly pulses through the back half of the week.
Local winds look to fresh from the north on Tuesday then back north-west on Wednesday as these fronts approach, so there should be some good mid-week windows of E/NE swell and favourable conditions.
Have a great weekend, see you Monday!