Small for the next few days with S swells for the weekend and start of next week
Sydney Hunter Illawarra Surf Forecast by James Casey (issued Wednesday 23rd June)
Best Days: Saturday, Sunday, Tuesday, Wednesday
Outlook (tl;dr)
N winds and small waves for Thursday and Friday with a small NE windswell and leftover SE swell combining
A series of inconsistent long period S swells with offshore winds will mean there are waves on the weekend but you'll need to be patient. Saturday 2-3ft and super lully and Sunday 3ft and marginally more consistent. Both days will be a bit bigger for the Hunter
Stronger better aimed S swell for Monday afternoon peaking on Tuesday up around 5-6ft for S swell magnets and easing throughout Wednesday
Recap
That SE swell provided one last pulse yesterday with some nice 3-4ft waves out of the SE. With winds remaining light and offshore for most of the day there were some waves with some punch on offer.
Today the swell has dropped in size and energy. It is 2-3ft out of the E/SE with NW winds early. These winds will pick up into the afternoon making it a bit bumpy unless you are in a northern corner.
The rest of this week
Today NE winds will whip up a little bit of weak NE windswell by this afternoon but it'll only be small. The lingering E/SE swell will be providing more energy.
Tomorrow the E/SE swell will continue to fade and the small NE windswell will gradually build. I'd expect waves in the 1-2ft range but without much quality as N winds create a bit of bump to it. Early will be your best bet for clean waves as winds start N/NW but they will strengthen and turn N/NE by the afternoon making it bumpy to choppy unless you are in a protected northern corner.
These winds are filtering in ahead of a region of low pressure that is bringing a bit of rain as it moves in from the southeast of the nation.
As the region of low pressure moves offshore on Friday winds will tend more W/NW allowing cleaner conditions but unfortunately without too much swell to go with it. I'd expect Friday to be 1-1.5ft of weak NE windswell. There could be signs of a longer period S swell late on Friday at S swell magnets
The weekend
This longer period S swell will arrive on Saturday morning although you'll need to be patient to see it. It is travelling from deep in the Southern Ocean and isn't the best aimed for our coast. S swell magnets will see 2-3ft sets amongst the long lulls. The Hunter will see a bit more size on the sets up around 3ft. Winds will be offshore all day so if you have time find a spot picking up the sets and wait patiently.
On Sunday we will see the sets become a bit more consistent as the longer period S energy from the Southern Ocean is better aimed and the fetch being closer. A local S swell will also fill the gaps between sets thanks to a burst of winds out of the eastern Bass Strait. It'll be a similar size to Saturday just more consistent, 2-3ft for S swell magnets, a bit bigger for the Hunter. Wind will be W/SW early, tending SW in the middle of the day and then more light and variable and offshore into the afternoon.
Next week and further ahead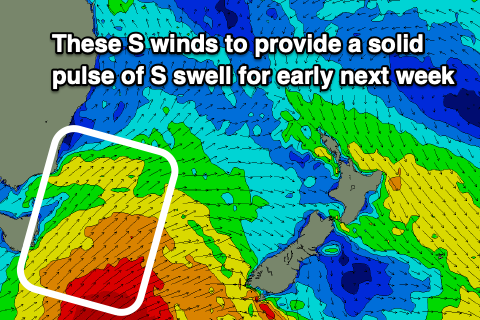 A strong S change will make it's way up the coast early on Monday making conditions bumpy but also bringing with it a new pulse of S swell. At this stage it is looking like the swell will gradually build on Monday to 3ft+ before peaking on Tuesday around 5-6ft mark for S swell magnets and then easing on Wednesday.
Winds will be S/SE on Monday so southern corners will have the cleanest conditions but not be picking up all of the swell. Tuesday will see winds swing around to the E/NE allowing south facing beaches to get the most of the S swell and have semi clean conditions. Wednesday will have more N/NE winds meaning you will need to head to northern corners to get the best of the easing S swell and cleaner conditions.
On Thursday we may see a reinforcing S/SE groundswell from the severe gales associated with the backside of the front that brought Tuesday's swell. This fetch to the south of NZ will bend in towards our coast thanks to the great circle path. It will be worth keeping an eye on it.
Further ahead there looks to be a fun looking E/NE swell developing but tune in on Friday for an update.