Quiet weekend before big week of waves next week
Sydney Hunter Illawarra Surf Forecast by James Casey (issued Friday 21st May)
Best Days: Tuesday onwards
Outlook:
Small combo of leftover S swell and E windswell for the weekend and start of the week
Larger E swell from Tuesday onwards, ebbing and pulsing until Thursday
S change for Thursday
Mix of mid period S swell and leftover E swell for Friday
Larger S swell for the weekend from low
Recap
Yesterday we had 2-3ft waves with winds out of the W for most the morning before a S change moved through in the afternoon.
Today we had smaller waves early, just hitting 2ft at south swell magnets before a strong SSE breeze filled in this afternoon. Once the breeze filled in it was wind sports for those braving the weather or the wiser option, staying indoors.
The weekend and start of next week
A combination of a weak E windswell and small, flukey S swell from a cold front will keep waves in that 1-2ft range over the weekend, building a little on Monday. It's nothing to get excited about but for those who enjoy the smaller waves it'll be your best bet to get wet as a larger swell arrives mid next week.
Tomorrow (Saturday) will see winds be SW early but tend more SE for the Illawara late in the day. Sunday will see SW winds early tending more SE across the region while Monday has lighter variable SW winds early before an E flow fills in for the afternoon. Mornings will be your best bet for clean waves.
Tuesday onwards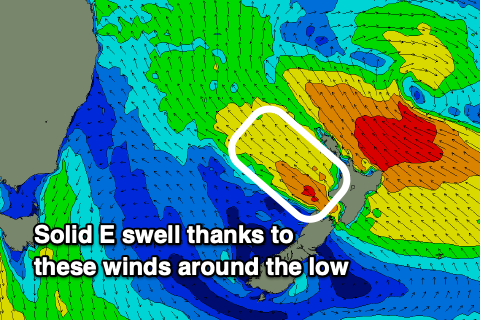 A low will deliver a powerful E swell for Tuesday thanks to strong winds on the western and southeastern flank of a low. While initially it isn't all that well aimed for S NSW there'll still be decent waves on offer with 4-5ft+ waves.
The low is looking more powerful than earlier in the week with stronger winds to the west coast of NZ and some funnelling of winds through Cook Strait so there should be a good spread of E swell across the week but it does make it a tricky one to pick.
Wave heights will linger around that 4-5ft+ mark from Tuesday until Thursday as the E swell fills in. It'll be biggest for the Hunter and a bit smaller for the Illawarra.
Winds over this period look to be light out of the NW on Tuesday morning tending strong NE in the afternoon. Stronger NW on Wednesday early tending more variable late. Thursday will see strong W/SW winds early with a cooler change tending more S throughout the day.
Further Ahead
Winds will intensify on Friday as a low forms off the east coast late Friday with a large swell looking to arrive over the weekend.
There'll be a mix of left over E swell along with a mid period S swell filling in on Friday before the larger S swell fills in over the weekend.
All in all it's a fairly dynamic week next week so don't go too hard this weekend.