Solid S swell incoming, less later in the week
Sydney Hunter Illawarra Surf Forecast by James Casey (issued Monday 17th May)
Best Days: Tuesday, Wednesday, Thursday
Outlook:
Larger S swell for Tuesday peaking into Wednesday. Winds offshore early light seabreeze Tuesday, stronger NE breeze for Wednesday arvo.
Swell to fade into Thursday
Another weaker S swell for Friday but with ordinary winds
Small leftover S swell for the weekend
Potential E swell for next week
Recap
There were some waves on Saturday morning around 3ft faded to be fairly small to tiny by the afternoon before starting to kick late. Sunday the swell was back up with some solid sets early up to 5-6ft easing to 3-4ft by dark.
This morning a lot of yesterday's swell is gone with just small 2ft waves out of the south, smaller for the Illawarra and larger for the Hunte. Winds are offshore and a bit fresh. Waves should build into this afternoon.
This week
A new S swell will show up late today and build into Tuesday as a stronger cold front passes to the south. Winds will tend more S later today and strengthen making southern corners a bit bumpy but as the swell fills in there should be options in more protected southern corners.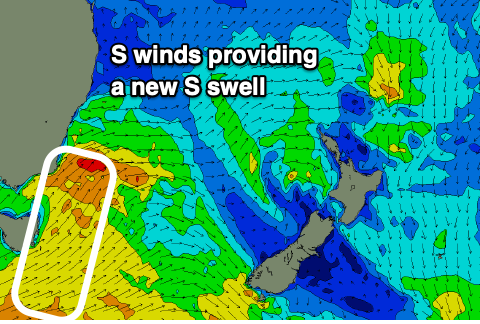 Tuesday will see a mid period S swell reach the 4ft mark for S swell magnets, larger sets for the Hunter, and ease a little into the afternoon. Winds will be W/SW early but weaken and tend light and variable in the afternoon with a weak seabreeze out of the E/NE.
Another longer period pulse of S swell will arrive on Wednesday allowing wave heights to peak up around that 4-6ft mark for south swell magnets. Winds will again be offshore Wednesday morning, turning around to the NE and strengthening by the afternoon. South facing beaches will be cleanest and biggest.
The swell will fade into Thursday starting off around 3-4ft and easing to 2-3ft by the afternoon for south facing beaches. Winds will again keep conditions clean with westerly winds ahad of a south change Friday afternoon to evening.
This south change, associated with a cold front further south, will bring a new burst of S swell arriving late on Friday. Don't expect anything special though as it'll be fairly small early when winds have a bit more of an offshore component and windier out of the S by the time the swell begins to fill in.
The weekend
The S swell will linger around the 3ft mark on Saturday while winds are a little lighter and offshore early. These winds will become moderate out of the E/SE in the afternoon making it a bit bumpy everywhere late in the day as the swell fades out a little.
This S swell fades out into Sunday with just small to tiny waves on offer in that 1-2ft range. Winds will be SW early and tend more SE into the afternoon so the morning will be your best bet.
Next week
There are indications of a flukey E swell will to fill in early next week. While not aimed best for S NSW we will see some of the energy. This swell will form north of NZ with E winds filling into the western flank of the low pressure system.
It'll only be short lived as it moves quickly and behind the North Island but should provide some 3ft waves around Tuesday/Wednesday.
We'll keep an eye on it and update you on Wednesday.