Tiny into the weekend, more action next week
Sydney Hunter Illawarra Surf Forecast by James Casey (issued Wednesday 28th April)
Best Days: Sunday, Monday then later next week.
Outlook:
Thursday to Saturday small to tiny waves with light winds early, seabreezes in the afternoon. High tide will slow things down mid morning
Sunday and Monday 2ft NE windswell
Tuesday and Wednesday S windswell accompanied by strong S winds
Recap
The past few days saw a longer period S swell linger with 3ft sets and the best conditions in the morning. The afternoons saw a seabreeze create bumpier conditions.
Today we have a slow 2-3ft S swell that is fading.Winds are offshore this morning but they will tend NE later this afternoon.
Into the weekend
The main story for the end of this week is the blocking high that is setting up and bringing an end to those more powerful S swells from the frontal activity in the Southern Ocean over the past few weeks.
Light winds and small waves are going to be the story for the next few days with waves in that 1-2ft mark with leftover S swell energy that will largely be affected by the morning's high tide.
Thursday will see winds light and W/NW early, tending NE in the afternoon, so it'll be smoother in the morning and best in northern corners in the afternoons.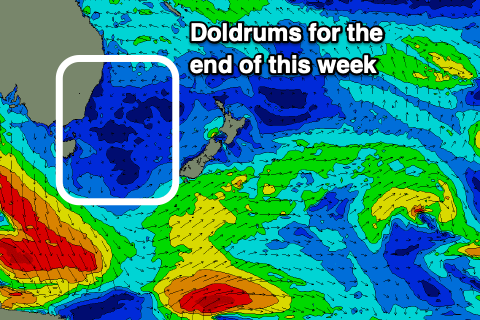 Friday will see light and variable winds early, again tending NE in the afternoon.
These NE winds will persist long enough to start creating a bit of NE windswell into the start of the weekend. I wouldn't expect much from it but it'll be providing more than the fading S swell.
Expect waves to be small to flat Saturday morning in the flat to 1ft range but increasing to 1-1.5ft by Sunday as NE winds provide a weak yet rideable option, best for northeast swell magnets.
Winds will be lighter and offshore in the morning for both Saturday and Sunday but increasing to a stronger NE breeze by the afternoon. Protected northern corners will have the cleanest options.
Next week
We will see a bit of a change on Monday with winds remaining offshore, out of the W/NW, for most of the day as S winds make their way up the coast. This S change from a trough moving off the far south coast will deepen into a low but it doesn't look like arriving until the early hours of Tuesday morning. Waves will be in that 2ft range again as the NE windswell hangs around for one more day.
S Winds will be strong for most of Tuesday into Wednesday, whipping up a mid period windswell bigger than what we will have seen for most of the week, around that 3-4ft mark. It still won't be anything to get excited about as the strong winds that create the swell also cause ordinary conditions. You will need to stick to southern corners for cleaner conditions where less size will be on offer.
Models get a little confused from here on as a low forms off the East Coast. What is likely is there'll be swell. It's looking likely to see some more E/NE swell with winds filtering into the eastern flank of the broad low. There could also be some S/SE swell mixed in as well from the southwestern flank of the low but we will need to see how it all evolves over the coming days. Later in the week there will also be some E swell thanks to a strengthening trade flow above NZ.
All in all it is looking busier next week than this week.