Easing S/SE swells with a fun NE windswell due Thursday
Sydney, Hunter and Illawarra Surf Forecast by Guy Dixon (issued Friday 15th January)
Best Days: Hopefully something on Sunday, more likely Thursday at open beaches.
Recap:
Inconsistent south/southeasterly energy generated by a polar low just off Antarctica graced some places along the NSW coast with it's presence, but not all. It seemed to be one of those flukey swells which provided 3-4ft options at some south magnets, but barely 1-2ft at others.
Nevertheless, there were waves at selected locations, with light winds early, becoming seabreeze in during the hot afternoon. Then, the storms hit. I hope you all got out of the water.
A gusty southerly change then moved through during the late afternoon with fresh-strong winds persisting throughout the night. We have seen a significant kick in southerly windswell this morning, although lacking any quality or order as southerly breezes continue.
This weekend (Saturday 16th - Sunday 17th):
Today's short range southerly windswell will fade throughout Saturday, as will a long range south/southeasterly groundswell which was generated at the start of the week off the Antarctic ice shelf.
The surf at exposed south facing beaches should ease from the 3-4ft+ range on Saturday before fading further on Sunday from the 3ft range whilst swinging more southeasterly, smaller elsewhere.
Apart from a pulse of southerly swell slowing the easing trend on Saturday, there aren't very many convincing indications of other swell sources throughout the weekend, with the exception of hints of residual east/northeasterly energy generated by the tail end of Tropical Cyclone Ula while she was in our swell window.
The chances of a clean wave are pretty slim on Saturday with winds swinging southeasterly and remaining gusty. Sunday holds marginally better propects, not because the wind direction improves, but merely because winds look lighter.
We can expect a light/moderate southeasterly airflow, much more manageable than the previous days. The surf is not expected to be clean, but at least workable. The lower Illawarra have the potential to see a period of early light/variable winds.
Next week (Monday 18th onward):
In Wednesday's notes we were expecting a Tasman Low to develop throughout today, however models have progressively delayed and down-graded the system, with the latest update virtually killing the system.
Our only hope now is off a small southeasterly fetch sitting off the far southern tip of New Zealand's South Island on Sunday which should provide a 2ft+ swell due late Tuesday, more likely Wednesday morning.
Up until then, we will have to rely on a mix of left overs and weak, occasional southerly energy generated by frontal activity over the Southern Ocean. South swell magnets should see subtle ebbs and pulses of background energy in the 1-2ft range during Monday and Tuesday.
Breezes look to be light southwesterly for early session to start the week, gradually swinging southeasterly in the late morning/afternoon, but remaining light. Tuesday looks similar in terms of wind, with light westerlies early, preceding an increasing northeasterly seabreeze.
A more notable north/northeasterly fetch looks to develop along the NSW south coast from Tuesday, gradually spreading northward and increasing.
The South Coast is looking at the longest duration of the strongest winds, however model runs are progressively strengthening this fetch further north.
By late Wednesday evening, this 25-30kt north/northeasterly airflow should be sitting off the Sydney and Hunter coasts, pushing offshore in the early hours of Thursday.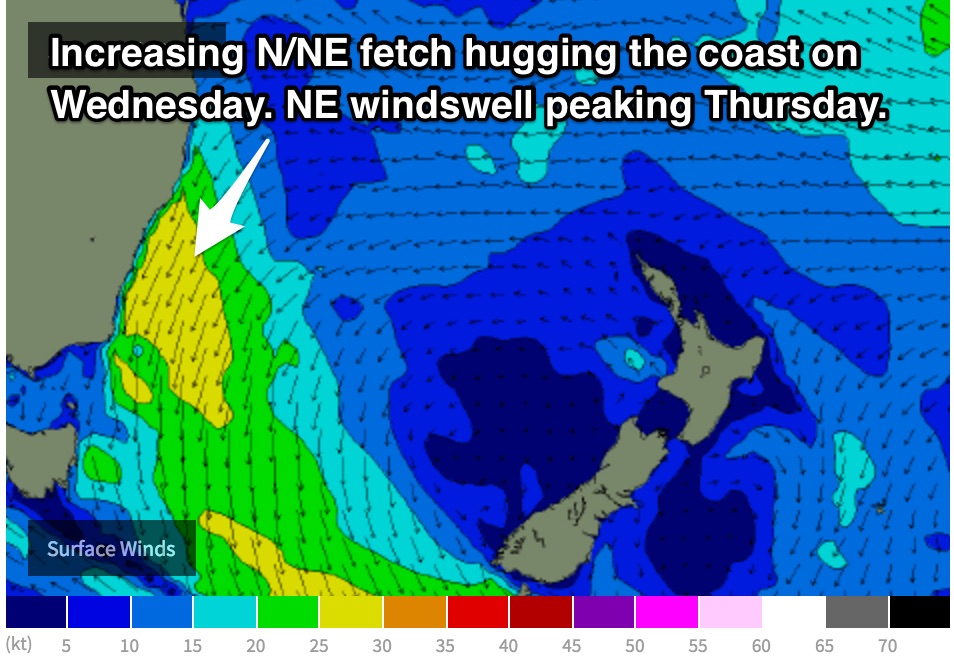 Sydney can expect open beaches to build to the 2ft range by the afternoon of Wednesday, while open beaches along the South Coast have the potential to build to the 3-4ft range by the afternoon.
Thursday morning should see the peak of this swell, with 3-5ft options along the open beaches of the South Coast and 3-4ft options further north around Sydney.
The local nature of the north/northeasterly airflow is likely to have an impact on the quality of the surf on Wednesday, however Thursday holds better prospects as winds look to cooperate preceding a change.
Models suggest two changes throughout Thursday, initially one early where winds will tend light westerly at dawn, before a light northerly re-establishes during the morning. The main southerly change then looks to approach in the late afternoon/evening, with a period of possible offshores beforehand. If these offshores develop, open beaches could be in line for some fun peaky a-frames.
Further ahead, this northeasterly swell will fade however long term models suggest a particularly inconsistent east/northeasterly swell to start filling in late in the week of yet another tropical depression over the South Pacific. At this stage, open beaches can expect occasional set waves in the 2-3ft+ range.