Peaky mix of swells, strongest Thursday, average end to the week
Sydney, Hunter and Illawarra Surf Forecast by Guy Dixon (issued Monday 11th January)
Best Days: Thursday.
Recap:
Following Friday's epic conditions, the swell eased a touch, but still offered plenty of great options for the weekend crowd. Saturday morning started off clean under a westerly airflow, with south facing beaches picking up options in the 3-4ft range, easing slowly. A southerly groundswell began to show its face in the afternoon, however by this stage an east/northeasterly seabreeze had come into play.
By Sunday morning however, breezes had dropped and tended variable/offshore leading to clean conditions. Sets in the 3-5ft range were rolling through the exposed south facing beaches and remained clean at these spots throughout the day as a northerly airflow developed.
All swell sources have faded today, with south facing beaches picking up residual southerly energy to the 2-3ft range, while open beaches are picking up a small northeasterly windswell of around 1-2ft.
This week (Tuesday 12th - Friday 15th):
Open beaches should still be seeing northeasterly energy into Tuesday morning at around 2ft, although fairly weak due to the low periods. By this stage, the north/northeasterly local fetch which has been generating this windswell is like to have pushed offshore, leading allowing for a northwesterly airflow to morning the morning, preceding a weak southerly change.
The only other significant swell source in the water looks to be long range east/northeasterly energy generated by Tropical Cyclone who refuses to die out near New Caledonia. The effects of this swell will remain as inconsistent as ever, with occasional sets in the 2ft+ range, however the lack of other swells will highlight its existence.
Much of Wednesday is looking pretty quiet, with Ula's long range pulses looking to be the most dominant energy in the water. Open beaches are expected to see the most size, although slow, with occasional sets in the 2ft range.
Elsewhere, it'll be tricky to find anything decent with undersized background energy filling in.
Breezes are looking to be light southerly in the morning, dropping and becoming variable during the late morning, before an easterly seabreeze kicks in.
Throughout Tuesday and the early stages of Wednesday, Tropical Cyclone Ula is finally destined to undergo extratropical transition and rapidly dive south and east of New Zealand. As it moves south however, it looks to maintain intensity, possibly providing us with some swell as it fleetingly moves through the swell window.
Thursday holds the best chances of seeing a slight increase in east/northeasterly energy with slightly more consistent sets in the 2-3ft range. Along with this subtle pulse, a sneaky southerly groundswell looks to fill in, although particularly inconsistent.
The source of this swell is an stationary, but intense low pressure system which has been whipping up 50kt winds off the ice shelf of Antarctica (shown right). The distance between the system and mainland Australia is vast, hence the inconsistency, but the strength and duration of this system should result in sets building to 3-4ft on Thursday.
Wave quality is looking good for the best part of Thursday, with northwesterly winds persisting for the majority of the day. Not only should the surf be clean, but it'll be a great way to escape the heat.
Finally, a southerly buster is due to move up the coast in the late afternoon/evening, generating a short range southerly windswell, building rapidly.
By Friday, this southerly windswell should be pushing the 4-5ft mark across the exposed south facing beaches, however quality will be negligible.
Fresh/strong winds are forecast to be impacting the line up heavily, so southerly protection is essential.
This weekend (Saturday 16th - Sunday 17th):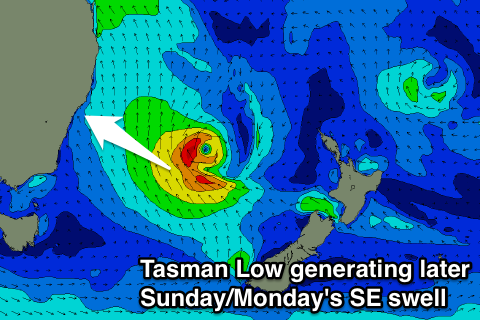 South facing beaches will see all the size over the weekend as we move of the local and long range southerly swell events. Saturday is likely to ease from the 3-5ft range, while Sunday morning will be initially smaller to 3-4ft ahead of a late kick in new south-east groundswell. This will be from a Tasman Low forming in the wake of Friday's southerly change, with 3-5ft sets likely late Sunday and early Monday from the south-east.
Wave quality at these south facing beaches is not going to be pretty on Saturday under a fresh southerly airflow, better on Sunday as winds ease and tend more southwesterly.