Friday, 14 February 2020
No end in sight to the run of poor surf
UNLESS YOU LIVE AT THE BEACH, PLEASE DON'T TRAVEL TO SURF
COVID-19 is changing the way we think about surfing. Travelling to the surf now means you're putting an unnecessary strain on the resources of small regional communities. So, please stay home. If you live near the beach and want to surf, please maintain a healthy spacing in the lineup, don't hang in the carpark, and keep your surf sessions shorter to allow others the opportunity to get wet. Above all, stay happy, healthy and look out for one another.
Southern Tasmania Surf Forecast by Craig Brokensha (issued Friday 14th February)
Best Days: No good days, beginners Monday morning
Recap
Tiny waves continued yesterday, similar today with better waves further afield.
This week and weekend (Feb 15 - 21)
There's nothing of note for the weekend with onshore winds and tiny surf tomorrow, windswelly on Sunday. Monday should see winds swing around to the NE through the morning with an easing SE windswell from maybe 1-1.5ft. Not ideal.
We then look to our E/SE groundswell through next week and currently Tropical Cyclone Uesi is dropping south through the Tasman Sea bringing large surf to the entire East Coast.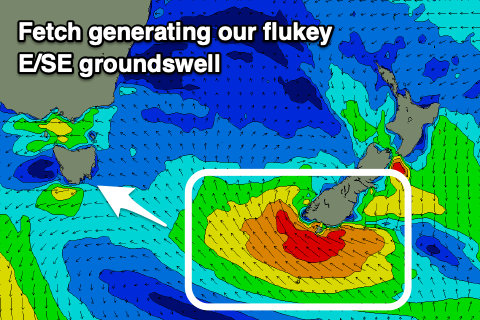 Uesi will drop towards New Zealand and aim a short-lived fetch of E/SE gales on the edge of our swell Sunday evening and Monday morning.
The swell is due to build Tuesday afternoon and peak Wednesday morning to 2ft+ across Clifton if we're lucky. Remember again this is a tricky swell source but spots further down the South Arm will see more size.
Unfortunately SE sea breezes will create bumpy conditions Tuesday afternoon, with fresh S/SE winds on Wednesday, spoiling the peak of the swell.
Following this unfortunately there's still nothing major on the cards so again check the East Coast Forecaster notes for more options. Have a great weekend!