An average weekend gives into better surf next week
South Australian Surf Forecast by Craig Brokensha (issued Friday May 19th)
Best Days: Tomorrow morning South Coast, Monday South Coast, Tuesday South Coast, Wednesday South Coast, Friday South Coast
Features of the Forecast (tl;dr)
Building mix of S/SW swells Fri PM with freshening W/NW tending fresh W/SW winds into the PM
Moderate sized swell Sat with light-mod W/NW winds, shifting SW late AM
Slightly stronger swell Sun AM with strong but easing SW tending S/SW winds
Moderate sized + swell for later Sun and Mon AM with NW winds, tending W/NW at times
Mod-large S/SW groundswell for Mon PM, easing Tue with NW tending W/NW winds
Smaller Wed with NW winds
SW change Thu with a new moderate sized S/SW swell, likely larger Fri with gusty W/NW winds
Recap
Good surf down South yesterday with plenty of swell still to 3-4ft across Middleton with favourable winds most of the day, a slow but clean 1-2ft on the Mid Coast through the morning, becoming slower and tiny into the afternoon.
Today conditions weren't as favourable and with a temporary low point in swell, 2-3ft off Middleton and 0.5-1ft across the Mid Coast. A new mix of S/SW swells are due later today but with W/SW winds.
This weekend and next week (May 20 - 26)
This afternoon's pulse of S/SW swell should hold in across the South Coast tomorrow morning, but a better increase in size is due later in the day but more so Sunday.
Firstly, tomorrow morning should come in at 3ft across Middleton under early W/NW winds, but surf before lunch as a cold front will bring a fresh SW change late morning.
Into later Saturday and Sunday, a moderate sized S/SW swell is expected, generated by a healthy frontal system that's currently south-west of Tasmania, with better 3ft to occasionally 4ft sets due across Middleton. Unfortunately a secondary strong frontal system will maintain strong but easing SW winds on Sunday, tending S/SW through the day.
Some additional mid-period S/SW swell is due to build into Sunday afternoon, brought on by this frontal system, ahead of some better S/SW groundswell on Monday.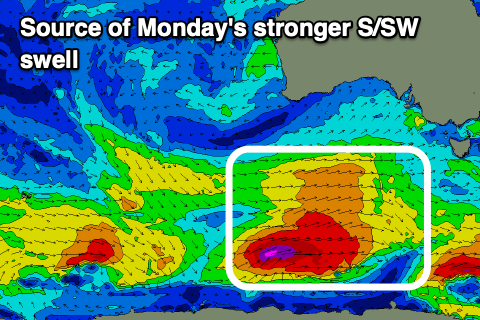 Sunday afternoon looks to build to 4-5ft, as the Mid Coast increases to 1.5ft, while a fetch of polar W/SW gales generates stronger sets on Monday to 4-6ft into the afternoon, a little smaller and mostly 4-5ft through the morning, as the Mid Coast holds 1.5ft or so.
Conditions will become much cleaner on Monday with a NW offshore that looks to hold most of the day, if not tending W/NW at times, and the Mid Coast should see early variable winds.
The easing trend through Tuesday will be slowed by thanks to trailing polar frontal activity firing up south-west of Tasmania on Sunday, with good 4ft+ sets off Middleton, a little smaller but still 3ft on Wednesday morning.
All day offshore NW tending W/NW winds will create clean conditions Tuesday, with similar NW winds on Wednesday.
A cold front will bring a gusty SW change on Thursday along with a new pulse of S/SW swell, though of greater significance is the fetch attached to this change. That will be stronger gale-force winds embedded in a more northerly positioned frontal progression, bringing larger surf into Friday along with W/NW winds. This will favour the South Coast, with more favourable N'ly winds possibly into Saturday with large, easing surf. We'll have a closer look at this on Monday though as the models diverge a little regarding this progression. Have a great weekend!