Tons of swell for the Mid Coast with decent winds
South Australian Surf Forecast by Craig Brokensha (issued Wednesday April 12th)
Best Days: Mid Coast tomorrow morning, both coasts Friday, South Coast Saturday, Monday both regions, Tuesday South Coast, Thursday Mid Coast
Features of the Forecast (tl;dr)
Easing mid-period W/SW swell tomorrow ahead of a new W/SW groundswell into the PM
S/SE tending SW winds on the Mid (S/SE-SE late), SW down South with a chance of dawn W/NW winds
Moderate sized W/SW groundswell and mid-period energy Fri with local morning offshore winds, tending N on the Mid and NE down South while freshening
Easing surf Sat with fresh W/NW winds, easing for a period through the morning
New moderate sized W/SW swell for Sun with gusty, but easing SW winds
Easing surf Mon with NE tending NW winds on the Mid, N/NW tending weak E/SE down South
Smaller Tue with similar winds to Mon
Moderate sized W/SW groundswell building Wed PM, peaking Thu with SE tending S/SE winds
Recap
The South Coast was clean and fun yesterday with early 2ft to occasionally 3ft sets off Middleton, easing back through the day with all day offshore winds. The Mid Coast was tiny and became wind affected into the afternoon.
Today a mid-latitude low is moving across us, bringing bumpy/choppy conditions down South with a small swell and kicking up some local windswell across the Mid Coast.
This week and weekend (Apr 13 - 16)
We've got a fun end to the week with improving conditions across the Mid Coast tomorrow along with some good westerly swell energy, great down South on Friday.
Firstly the mid-latitude low moving across us today will push off to the east, allowing winds to ease and swing light S/SE for a period across the Mid Coast, while remaining SW for the most part across Victor and Middleton. There's a chance for W/NW winds at dawn around Victor, so keep an eye on the local wind observations.
The windswell whipped up today will be replaced by mid-period energy to 2ft tomorrow morning while the South Coast looks to ease back from the 3ft range. Into the afternoon though the first pulse of W/SW groundswell (from a healthy progression of lows up towards Western Australia) will fill in.
This should provide inconsistent 2ft to occasionally 3ft sets on the Mid Coast magnets, helped by the incoming tide but with SW winds, tending back S/SE-SE on dark.
The South Coast should build to 3-4ft later tomorrow across Middleton and hold this size on Friday.
The Mid Coast looks to back off temporarily to 2ft on the sets Friday morning, with the incoming pulse pushing it a little stronger through the afternoon. Winds on Friday will be favourable for both regions with local offshore winds (N/NE South Coast, E/NE Mid Coast) with the afternoon seeing fresh NE winds down South, and N winds on the Mid, tending back NE later.
A gusty W/NW change will then move through pre-dawn Saturday, easing through the morning temporarily before increasing again later as a strong mid-latitude front pushes in from the west.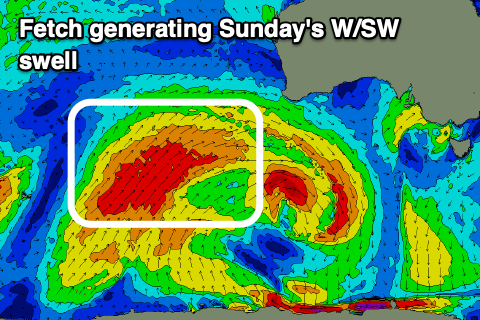 This will be part of a strong but weakening mid-latitude frontal progression pushing up and across Western Australia, with an initial fetch of gales, easing back to strong.
This will bring some weak windswell on Saturday across the Mid Coast to 1-2ft or so along with easing levels of W/SW groundswell.
Some stronger mid-period W/SW swell is due to move in on Sunday from the earlier stages of the progression, pushing back to 2ft+ but with unfavourable, strong SW winds.
Another approaching frontal system should swing winds back to the NE across the Mid Coast Monday morning (N/NW down South) but with easing levels of W/SW swell from 2ft. The South Coast should be in the 3ft+ range off Middleton but inconsistent.
Tuesday will become smaller and winds similar to Monday ahead of a late S/SW change as a trough clips us.
Unfortunately for the South Coast this trough will be followed by a high, bringing SE winds to round out the rest of the week, spoiling a good new pulse of moderate sized W/SW swell that's due later Wednesday, peaking Thursday.
This will favour the Mid Coast though with good 2-3ft sets expected, but we'll confirm this Friday.