Tons of swell this week, large and stormy into Friday
South Australian Surf Forecast by Craig Brokensha (issued Monday January 30th)
Best Days: Today Mid Coast, keen surfers tomorrow morning down South and Mid Coast in the morning, protected spots South Coast Thursday morning, Mid Coast Saturday morning, South Coast for the keen and experienced Saturday morning, South Coast Sunday morning
Features of the Forecast (tl;dr)
Stronger, mid-period SW swell building Mon with mod-fresh S/SE-SE winds
Swell holding Tue with light-mod S/SE winds down South, SE tending gusty SW on the Mid
Inconsistent SW groundswell for Tue PM, easing Wed with strengthening S/SW tending S winds, possibly variable at dawn
Moderate sized mid-period SW swell for Wed/Thu with strengthening W winds Thu (building windswell on the Mid)
Large SW groundswell for Fri with strong SW winds
Easing large swell Sat with early S/SE winds on the Mid, moderate S/SW down South
Smaller Sun with variable SE tending S/SE winds
Recap
Clean conditions but with smaller 2ft leftovers across the South Coast on Saturday morning, deteriorating with an onshore change late morning/midday. Yesterday was poor with onshore winds and no new swell.
The Mid Coast was tiny all weekend ahead of a new swell later in the day which is offering 1.5ft sets today (now 2ft on the best ones). We should see the incoming tide provide a fun push into the late afternoon. The South Coast also kicked in size to 3ft with a workable onshore wind for the keen.
This week and weekend (Jan 31 – Feb 5)
Today's building mid-period SW swell energy which should provide more consistent 2ft sets across the Mid Coast into this afternoon and evening will ease slightly through tomorrow, but not drop below an inconsistent 3-4ft on the South Coast and 1-2ft across Middleton thanks to a reinforcing SW groundswell arriving.
The source of this groundswell and the mid-period swell today was a polar low projecting up and towards us since late last week.
Following this system though is a weaker but broad and elongated fetch of strong W/SW-W winds. This will generate some good, moderate sized mid-period SW swell for Wednesday and Thursday, holding 3-4ft across Middleton with 1-2ft sets continuing across the Mid Coast on the favourable parts of the tide.
We've got an even larger swell due into Friday but I'll discuss this after running through the local winds.
A light to moderate S/SE breeze is due across the South Coast tomorrow morning creating bumpy but workable conditions, cleaner on the Mid with a SE'ly before gusty SW sea breezes kick in. Wednesday looks dicey across all locations as a trough pushes up and into us, bringing strengthening S/SW tending S winds. There's a likely early S/SE-S wind due on the Mid Coast and possible light W'ly winds around Victor at dawn but don't count on it.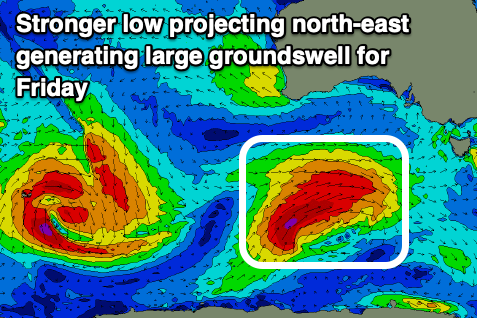 Thursday looks to be a better chance for the South Coast with strengthening W winds as a strong polar front pushes up and into us.
This will be the source of Friday's large SW groundswell, with a fetch of gale to severe-gale winds due to be generated on top of an active sea state, projecting north-east into us later week.
Size wise, the South Coast will reach 8ft through Friday with a stormy 3ft wave on the Mid Coast along with strong SW winds. The low should start to clear east through the weekend, but winds will remain onshore out of the S/SW for the South Coast, and tend light S/SE on the Mid in the morning. There's an outside chance for a dawn W'ly down South but we'll review this Wednesday.
Easing sets from 2ft are due on the Mid with fading sets from 6ft+ across the South Coast, smaller Sunday as winds go more variable SE. Check back here on Wednesday for an idea how this swell is tracking along with the local winds.