Good west swells for the weekend
South Australian Surf Forecast by Craig Brokensha (issued Wednesday October 5th)
Best Days: Today and tomorrow morning South Coast, Saturday Mid Coast (even with the bumps), Sunday morning and evening Mid Coast, South Coast dawn Saturday and Sunday morning, Monday South Coast
Features of the Forecast (tl;dr)
Easing S/SW and S/SE swell Thu with N tending N/NW winds
Low point in swell Fri with strengthening W/NW tending W/SW winds
Mix of new W/SW and SW swells for Sat, biggest in the PM with mod-fresh S/SW winds (possibly W/NW at dawn in Victor and S/SE on the Mid)
Easing mix of swells Sun with E/SE tending W winds on the Mid, variable tending S/SE down South
Easing surf Mon with fresh N/NE tending E/NE winds
New small W/SW swell Wed with NW winds
Recap
Clean conditions yesterday morning across the South Coast with smaller 1-2ft waves across Middleton, best on the swell magnets. The Mid Coast was tiny and into the afternoon, strengthening E'ly winds created deteriorating conditions across the South Coast, while blowing out conditions in the gulf.
Today we're set to see the strong mid-latitude low drifting south-east across us, bringing weakening, tending variable winds into the late afternoon/evening, so there should be fun options down South most of the day with our new pulse of S/SW swell this morning starting to ease, mixed in with some localised S/SE windswell.
This week and weekend (Oct 6 - 9)
Looking at tomorrow and today's mix of S/SW and S/SE swells will start easing this afternoon, dropping from a smaller 2ft on the sets across Middleton with a light N tending N/NW breeze, holding into the afternoon as the swell fades. Get in through the morning for the best conditions.
A low point in swell is expected Friday morning and winds will strengthen from the W-W/NW on the South Coast, W/NW tending W/SW on the Mid Coast.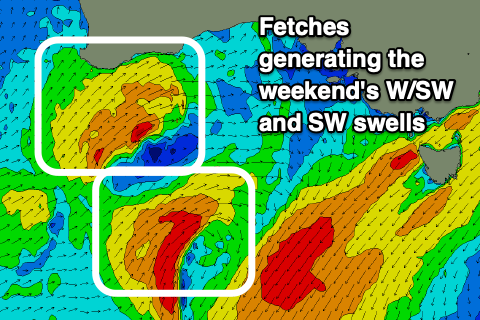 This will be linked to the backside of the broad, mid-latitude low moving across us, bringing a weak increase in windswell through the afternoon on the Mid Coast, ahead of out better mid-period W/SW swell energy on the weekend.
These swells are being generated by a fetch of strong W/SW winds passing under Western Australia today, followed by a secondary projection of W/SW winds through tomorrow, pushing across us Friday, bringing the west change.
Size wise, the Mid Coast should see 2ft waves all weekend, but tomorrow's front should boost wave heights to 2-3ft on the magnets into Saturday afternoon, easing Sunday from a similar size.
The swell will be fairly west in nature, though some additional SW energy is expected to be in the mix, generated by a tight low to our south-west tomorrow afternoon and evening. Building surf to 3ft is due Saturday across the South West, easing from a similar size Sunday, under the model forecasts, thanks to them incorrectly combining the W/SW and SW energy.
Winds will be best for the Mid Coast during this period, with Saturday seeing easing S/SW winds, creating bumpy but more than workable conditions, average down South apart from an early W/NW breeze. The Mid may see early S/SE winds but we'll have a clearer idea on this Friday.
Offshore E/SE winds are due Sunday morning across the Mid Coast ahead of sea breezes, more variable down South and fun across most spots.
Monday looks great for the South Coast with a N/NE offshore and easing 2ft+ sets, clean on the Mid Coast through the morning with easing 1-1.5ft sets.
Longer term, there's nothing too major for the South Coast ,with weaker fetches due to push through the Mid Coast's swell window, producing a small W/SW swell for Wednesday. Winds from the weakening front look to spoil the swell on Wednesday, blowing NW but we'll confirm this Friday.