Smaller swells with persistent north-east winds
South Australian Surf Forecast by Craig Brokensha (issued Wednesday July 20th)
Best Days: South Coast tomorrow morning, Saturday afternoon Mid Coast, Sunday South Coast, Monday morning South Coast
Features of the Forecast (tl;dr)
Small, inconsistent S/SW groundswell tomorrow, fading Fri
Moderate N/NEE tending fresh E/NE winds tomorrow, strengthening N/NE Fri
Small pulse of W swell Sat PM with N/NE tending N/NW winds (N/NW tending variable down South)
Inconsistent, fun SW groundswell Sun with N/NE tending fresh NE winds
Easing surf Mon with fresh N/NW tending strong W/SW winds
Recap
An improvement in conditions across the South Coast yesterday as winds shifted E/NE along with some solid S'ly swell in the 4-5ft range. It was a little lumpy but clean enough on the face for a few options. The Mid Coast was more of a tease with great conditions but infrequent 1-1.5ft sets.
Today the South Coast has dropped to 2-3ft across Middleton and conditions are nice and clean with a light offshore wind while the Mid is back to 1ft.
This week and weekend (Jul 21 - 24)
We've got fading surf with increasing offshore winds for the coming days down South, dropping to a small, inconsistent 2ft tomorrow as a background S/SW groundswell steadies the easing trend slightly. Friday looks small to tiny and fading from 1ft to possibly 2ft. The Mid will become flat.
An approaching mid-latitude low from the west will bring a tightening pressure gradient across the state and moderate N/NE tending fresher E/NE winds tomorrow, stronger N/NE on Friday.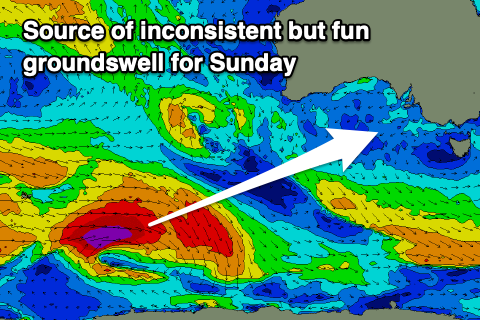 Now on Monday I made a point of saying to check back today for the possibly swell potential Saturday from the low moving in from the west. GFS had it being quite significance but EC weaker. The models are still in disagreement with GFS being weaker but still stronger than the EC scenario.
So with a fetch of strong W/SW winds at least being projected east, a building swell to 1-2ft is due into the afternoon on the Mid Coast, tiny down South and with N/NW tending variable winds down South, N/NE tending light N/NW on the Mid. The swell will then fade from 1-1.5ft on Sunday.
Late in the day Saturday but more so Sunday, a new inconsistent SW groundswell is expected across the state, generated by a strong but distant polar low that's currently south-west of Western Australia.
A fetch of gale to severe-gale W/SW winds are being generated and this should produce inconsistent 3ft sets across Middleton on Sunday and with N/NE tending NE winds. The Mid looks best for beginners with the easing W'ly swell.
Longer term, a progression of strong polar storms will push up towards and then under Western Australia under the influence of a strong node of the Long Wave Trough, bringing moderate to large sized pulses of W/SW groundswell for us from Tuesday and with favourable winds. More on this Friday.