Tricky winds and troughy weather
South Australian Surf Forecast by Craig Brokensha (issued Wednesday June 29th)
Best Days: South Coast today, Mid Coast tomorrow, South Coast Saturday morning and Tuesday morning
Features of the Forecast (tl;dr)
Fun W'ly swell tomorrow with moderate SE-S/SE winds
Building moderate sized S/SW swell Fri with SE winds (possibly tending E-E/NE for a short period in the AM), easing slowly Sat with E/NE tending SE winds
Reinforcing moderate sized S/SW swell Sun with fresh E/SE-SE winds
Good S/SW groundswell building Mon with E/SE tending SE winds, easing Tue with NE tending SE winds
Recap
Great conditions but small, fading 1-2ft waves on the South Coast yesterday while the Mid Coast was tiny and wind affected, deteriorating through the day.
Today a new mix of W/SW swells are filling in but with some average NW windswell in the mix on the Mid, spoiling the 1-2ft westerly swell energy. The South Coast was better and cleaner with fun 1-2ft sets across Middleton. Winds will shift more NW into this afternoon keeping the South Coast clean as the swell holds a similar size across Middleton.
This week and weekend (Jun 30 – Jul 3)
We've got better conditions and a fun pulse of W/SW swell due across the Mid Coast tomorrow morning, generated by the frontal system that's currently moving in from the west.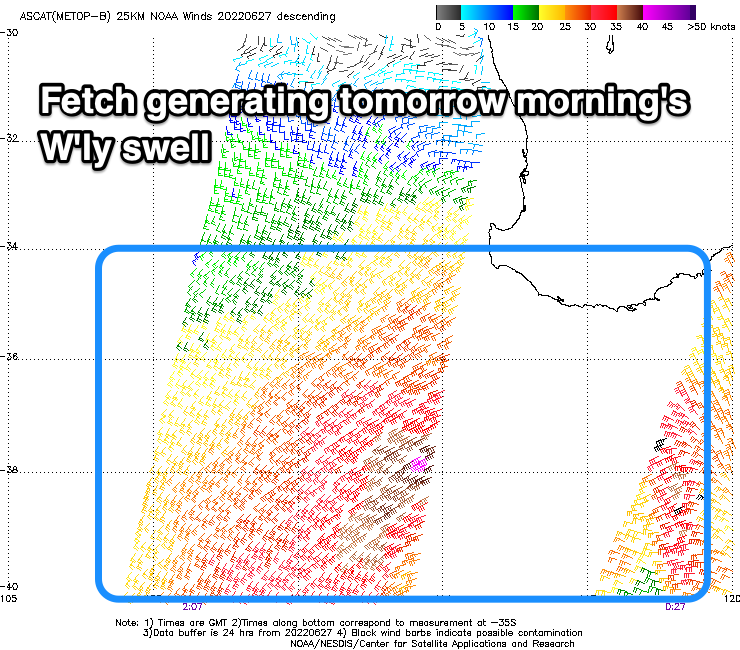 A good fetch of strong W/SW winds were projected under Western Australia's south coast, generating a fun pulse of swell to 2ft, easing through the day and then tiny Friday.
Winds will improve for the Mid Coast and swing around to the S/SE-SE tomorrow as the weakening swell producer pushes east and a high starts to fill in from the west. The South Coast looks to only be 2ft max and be bumpy with the S/SE breeze.
Now, as touched on in Monday's note, the remnants of the low moving across us this evening is due to feed into a deepening surface trough off the southern NSW coast, squeezing against the high moving in from the west later this week.
This will bring SE winds on Friday, though we may see them tip E-E/NE for a short period during the morning. Saturday is a greater chance of this, with less favourable and fresher E/SE-SE winds on Sunday.
There's still room for movement regarding these winds due to the tricky, troughy weather so check back here Friday for one last look at the weekend's outlook.
Swell wise, we've got fun pulses of moderate sized S/SW groundswell and mid-period energy due through Friday and Sunday ahead of a stronger pulse of energy Monday.
These swells are being generated by a progression of polar lows and fronts, generating various fetches of W/SW-SW winds through our southern swell window.
The most size is expected Friday afternoon and Saturday morning initially with 3-4ft sets across Middleton. The Mid Coast won't see any size owing to the southerly nature of the swell and shadowing effects of Kangaroo Island.
A final strong but fast tracking low is due to generate a fetch of severe-gale to storm-force W'ly winds through our swell window on Friday evening and Saturday, producing a good pulse of S/SW groundswell Monday, building back to 3-4ft into the middle of the day, smaller and 2-3ft earlier.
Unfortunately the slow moving nature of the low on the East Coast and the high to our south-west will likely result in unfavourable E/SE winds on Monday, hopefully improving and swinging back to the NE on Tuesday as the swell eases. More on this in Friday's update.
Longer term there's nothing major on the cards as high pressure dominates out immediate swell window. Check back Friday for a clearer idea on next week though.