Fun options for both regions over the coming days
South Australian Surf Forecast by Craig Brokensha (issued Monday June 27th)
Best Days: Today, South Coast magnets tomorrow, South Coast for the keen Wednesday morning, Mid Coast Thursday, Saturday, Sunday and Monday mornings South Coast
Features of the Forecast (tl;dr)
Easing mix of swells tomorrow with N/NE tending N/NW winds
Small, inconsistent W/SW groundswell Wed with strengthening N tending W winds (late afternoon)
Fun W'ly swell Thu with SE tending fresher S/SE winds
Building moderate sized S/SW swell Fri with S/SE winds, holding Sat with E/NE tending SE winds, easing Sun with similar winds
Further pulses of S/SW swell next week
Recap
Friday afternoon's building mix of swell energy peaked through Saturday with fun, clean 3-4ft waves across Middleton while the Mid Coast was a bumpy 2ft.
Sunday saw slightly cleaner conditions across the Mid with a slight drop in swell back to 1-2ft while the South Coast remained a fun 3-4ft.
Today we've still got 3-4ft sets across Middleton with great conditions, cleaner on the Mid Coast and hanging in at 1-2ft. Winds should remain favourable all day with fun surf across both coasts into this afternoon.
This week and weekend (Jun 28 – Jul 3)
The current mix of swell energy will ease into this afternoon and tomorrow, leaving tiny 1ft+ waves on the Mid Coast and fading 2ft sets across Middleton under a favourable N/NE tending N/NW breeze. Hit the South Coast magnets for all the action.
Into Wednesday we've got a tricky new pulse of small W/SW groundswell, generated by a strong but south-east tracking fetch of W/NW-NW winds through our swell window, south-west of Western Australia on the weekend.
This may generate 1-1.5ft sets on the Mid Coast but with fresh N tending W winds, while the South Coast looks to offer inconsistent 2ft sets.
A better W'ly swell is due Thursday across the Mid, generated by a better mid-latitude front passing under the Western Australian south coast today, providing 2ft surf as winds swing around to the S/SE in the wake of Wednesday's change. The morning should see a light SE offshore, and the South Coast will be poor and bumpy with small 2ft sets max.
This change will be linked to a trough pushing east, and it's forecast to deepen along the East Coast as a high moving in from the west stalls.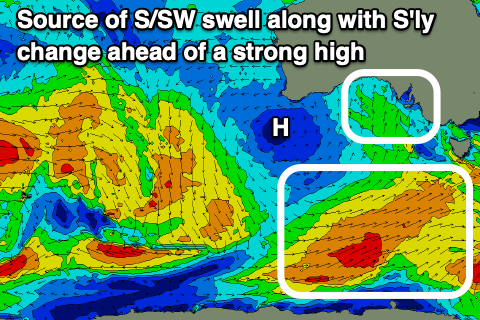 Winds will persist out of the S/SE generally through Friday and the weekend but we might see pockets of E/NE breezes down South depending on where the trough deeps along the East Coast.
Swell wise, we've got moderate pulses of S/SW swell with a range of periods, generated by a healthy polar frontal progression along the polar shelf.
The models are over-forecasting the size from this direction along the South Coast with surf to 3-4ft expected across Middleton from Friday afternoon through Saturday, easing Sunday with some further pulses likely next week. Winds should improve slowly next week but we'll have a closer look at this on Wednesday and Friday. Either way lighter E/NE breezes are more than likely Saturday and Sunday mornings.