Slow period for winter
South Australian Surf Forecast by Craig Brokensha (issued Monday June 13th)
Best Days: Today South Coast, tomorrow morning South Coast, Mid Coast Thursday morning
Features of the Forecast (tl;dr)
Easing S swell today as winds shift fresh E/NE-NE
Small, fading surf tomorrow with strengthening N/NE tending N/NW winds
Small inconsistent S groundswell Wed AM, easing with fresh W/NW winds
Building mix of Wly windswell and weak mid-period swell Wed
Easing mix of W'ly swells Thu with variable tending W winds on the Mid, W/NW tending W/SW winds
Tiny W swells for the weekend with N/NE winds
Recap
Poor surf all weekend with onshore winds down South and no real size on the Mid Coast. Today is the pick of the weekend with a light offshore wind and improving conditions along with plenty of size, easing back from the 4ft range.
This week and weekend (Jun 14 - 19)
Make the most of today as we'll see the surf easing out of the S'th over the coming days and with no real decent swells to follow it up until next week.
Winds are due to shift E/NE-NE this afternoon down South so aim for a paddle before lunch for the cleanest conditions.
The large Southern Ocean gyre with multiple embedded polar fronts, linked to the recent cold, showery weather and onshore winds has now moved off to the east. There's one final polar low that fired up south-west of Tasmania last night but it's a little too far east to generate any major swell for us. If any size is seen, it'll be Wednesday morning with sets to 2ft due, tiny and 1ft into the afternoon.
Looking at tomorrow though and today's S'ly swell will be on the ease, dropping back from 2ft to possibly 3ft across Middleton but winds will be offshore but strengthening, N/NE early before shifting N/NW through the morning.
Come Wednesday winds will shift W/NW and remain fresh as a weak mid-latitude low moves in through the Bight and across us.
The low isn't looking anywhere near as favourable for swell production as it was, with it now strongest into Western Australia, easing as it pushes off their south coast and into our swell window.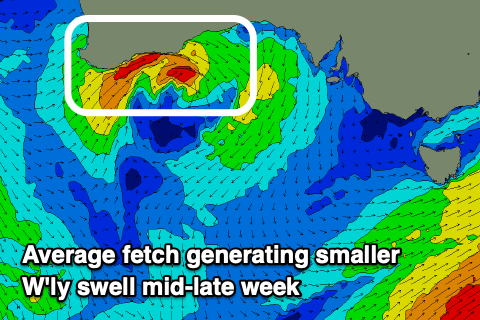 A fetch of poorly aimed, strong westerly winds look to generate some weak W'ly swell that's due to build Wednesday along with some localised windswell. The Mid Coast only looks to come in around 2ft+ or so with those gusty W/NW winds, easing from the 2ft range on Thursday. Winds look to ease into Thursday as the low clears, with variable winds expected through the morning on the Mid Coast with a W/NW'ly down South but no real size owing to the westerly direction. 1-2ft sets may be seen across Day St, tiny towards the Point.
Looking at the rest of the week and weekend, there's nothing major on the cards at all but winds will swing to the north, creating great conditions down South though with minimal size.
Some tiny W/SW swell energy looks to keep the Mid Coast around 1ft or so but with tiny wind chops and ridges.
Unfortunately the outlook into next week remains similar with the storm track being focused up and into Western Australia, too far north of the South Coast's swell window, while generating tricky pulses for the Mid.
The best looking swell is due Monday/Tuesday next week, but for the Mid Coast, strengthening NW winds will create choppy conditions while the South Coast looks cleaner but only 2ft to maybe 3ft across Middleton. We'll have a closer look at this Wednesday and Friday.