Building swell later through the weekend, better options early next week
South Australian Surf Forecast by Craig Brokensha (issued Friday May 10th)
Best Days: Keen, experienced surfers South Coast Sunday afternoon, Monday experienced surfers down South, Tuesday morning for the keen down South
Features of the Forecast (tl;dr)
Moderate sized S'ly swell tomorrow and Sun AM with gusty SW winds
Larger S groundswell building Sun PM with fresh SW winds, tending S/SW and easing
Easing S groundswell Mon with N/NE tending variable winds
Easing S swell Tue with strong N/NW winds
Acute W swell Wed with strong W/NW winds
Recap
Average, onshore, windswelly waves across the Mid Coast with no real size or power while the South Coast has offered more size out of the S'th with this morning offering the cleanest conditions. It's been limited to protected spots though and winds are now swinging back onshore.
This weekend and next week (Jun 11 - 15)
Similar conditions are due through the weekend to what we've seen the last few days across the South Coast, with onshore and strong SW winds feeding into the back of a broad, multi-fronted Southern Ocean gyre.
This has been feeding cold air and onshore winds up across the state, with stronger pulses of S'ly swell due to fill in from tomorrow through early next week as the strongest of the polar fronts projects up and across Tasmania.
Into tomorrow we should see a bit more period to the S'ly energy as a fresh pulse of S'ly swell fills in, generated by a front pushing up and across Tasmania yesterday afternoon through early this morning.
Sets to 4ft are due across Middleton, with the Mid Coast remaining tiny and with gusty SW winds. There's an outside chance for early W'ly winds around Victor but it won't really improve the quality of the swell.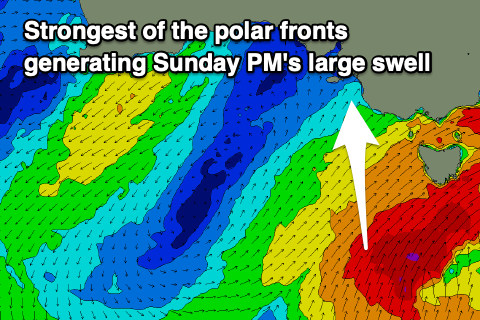 Similar sized waves are due into Sunday morning ahead of a stronger pulse of S'ly groundswell generated by the strongest and final front within our swell window with a fetch of gale to near severe-gale S/SW winds being projected up past Tasmania tomorrow.
Larger sets to 6ft are due across Middleton and other deep water reefs through the afternoon and fresh morning SW winds are due to ease and tend more S/SW after lunch. While not great there should be options for keen and experienced boardriders.
Monday is now looking really fun with lighter offshore N'ly tending N/NE winds due through the morning, likely tending variable through the afternoon along with large, easing sets out of the S'th from 4-5ft+ across Middleton, back to 3-4ft by the early afternoon.
The Mid Coast is due to see a tiny, inconsistent W/SW groundswell generated in our far swell window and this isn't expected to top 1ft through the day.
Come Tuesday the swell will be easing fairly rapidly in size and power and an approaching mid-latitude frontal system will bring strengthening N/NW winds. If keen, get out early across the exposed breaks.
Into the middle to end of the week we'll see the strengthening mid-latitude frontal system generating an acute W'ly groundswell for the Mid Coast mostly, with a fetch of weakening gale-force W'ly winds due to push under Western Australia and through the Bight early next week.
The low will move across us Tuesday evening in a weakened form, dipping east-southeast resulting in strong W/NW winds on Wednesday as the swell fills in.
At this stage the Mid looks to come in around 3ft but semi-stormy, with the swell cleaner down South but too west in nature, likely only 2ft or so across Middleton. Following this there's plenty of mid-latitude frontal activity to come, but more on this Monday. Have a great weekend!