Windy, average surf, larger through Monday
South Australian Surf Forecast by Craig Brokensha (issued Wednesday June 8th)
Best Days: Protected spots down South for keen surfers early Friday morning and early Saturday morning, Monday morning South Coast, Tuesday South Coast
Features of the Forecast (tl;dr)
Mix of S'ly swells tomorrow with strong W/SW-SW winds (possibly W'ly for a period early)
New, moderate sized, mid-period S'ly swell Fri/Sat with early fresh W/NW tending gusty W/SW-SW winds Fri, SW Sat with a possible early W'ly
Mod-large S'ly swell building later Sun, easing Mon with fresh SW tending S/SW winds Sun, fresh N/NE tending NE on Mon
Easing S/SE swell Tue with freshening N winds
Smaller surf Wed with strong N/NW tending W/NW winds
Recap
Poor surf across the South Coast yesterday with S/SW swell to 3-4ft but no quality. Today conditions are a little cleaner with lighter winds and a continuation of S/SW swell to 3-4ft. The Mid Coast saw improving conditions yesterday with easing onshore winds and 2ft to occasionally 3ft sets on the magnets. Today is cleaner again but smaller and weaker as the swell eases from 1-2ft.
This week and weekend (Jun 9 – 12)
We'll see the Mid Coast continuing to ease in size over the coming days as the prime swell angle shifts more southerly.
A large Southern Ocean gyre that's developed under the influence of a very slow moving and pronounced node of the Long Wave trough is projecting a progression of successive cold fronts up and across Tasmania through our southern swell window with each due to become stronger over the coming days and into the weekend.
This will see increasing levels of S'ly swell across the South Coast, but unfortunately with us being on the western side of the gyre we'll see onshore, persistent winds.
Strong W/SW-SW winds are due tomorrow with the first pulse of building mid-period S'ly swell later tomorrow but more so Friday with sets to 3-4ft across Middleton, tiny on the Mid Coast. Winds on Friday look a little better with a W/NW'ly likely early around Victor but generally fresh from the W/SW tending SW.
Into the weekend a bit more size should start to show as a stronger cold front projects towards Victoria tomorrow evening, producing sets more in that 4ft range across Middleton Saturday but with fresh SW winds. There'll likely be a period of early W'ly winds around Victor, though lower your expectations.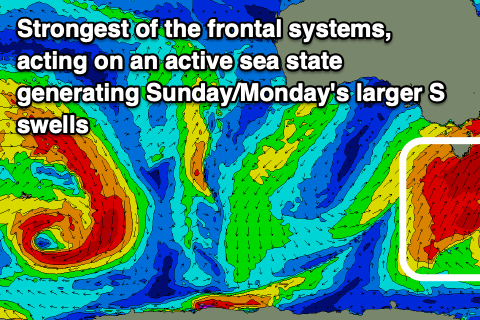 Less favourable SW tending S/SW winds are due on Sunday but this is when the strongest and largest pulse of S'ly swell is due, generated by a fetch of S/SW gales through our southern swell window on the weekend.
This swell should build through the afternoon and push to a larger 4-6ft later in the day, persisting around 4-6ft on Monday from a more S/SE direction. Winds should ease back in strength as the gyre starts to move east early next week, with a N/NE offshore due through the morning with that large mix of S'ly swells.
Tuesday looks great with easing S'ly swells from the 3-4ft range under fresh N'ly winds.
As touched on the last couple of updates, a strong high sitting to the west of the large Southern Ocean gyre will limit any major swells being produced for the middle of next week, but we may see some small, weak mid-period W'ly swell Thursday/Friday from a weak mid-latitude front pushing in under the country. More on this Friday though.