Strong swell incoming
South Australian Surf Forecast by Craig Brokensha (issued Friday March 18th)
Best Days: This afternoon Mid Coast, both coasts tomorrow, beginners on the Mid Sunday morning, early South Coast for the keen Sunday, Monday morning South Coast
Features of the Forecast (tl;dr)
Moderate sized + W/SW swell buiding this afternoon with strengthening S/SE winds, tending SE late, easing tomorrow with E tending variable winds on the Mid and NE tending light SE winds down South
Reinforcing, inconsistent W/SW groundswell Sat with variable SW tending S winds down South, SE tending fresh SW on the Mid
Smaller surf Mon and Tue with variable morning winds
Inconsistent, small W/SW groundswell Wed with S/SE winds
Recap
Clean conditions across both coasts early yesterday but with a low point in swell and tiny surf. A trough brought an onshore change through the day but this has eased into this morning with a lighter SE breeze on the South Coast and clean conditions on the Mid but no swell as of yet.
Looking at the Cape du Couedic wave buoy, it's rocketed up during this morning and our new W/SW swell should arrive very soon but show best with the incoming tide this afternoon. Sets to 2-3ft are due and winds will remain favourable from the S/SE (fresh to strong), shifting back SE into the evening. The South Coast will be poor and build to 3ft across Middleton.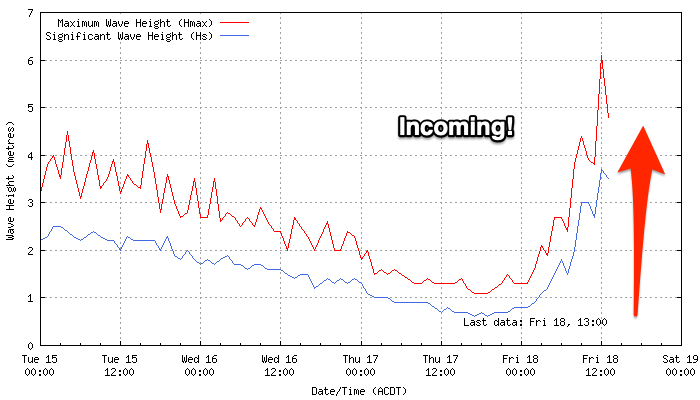 This weekend and next week (Mar 19 - 25)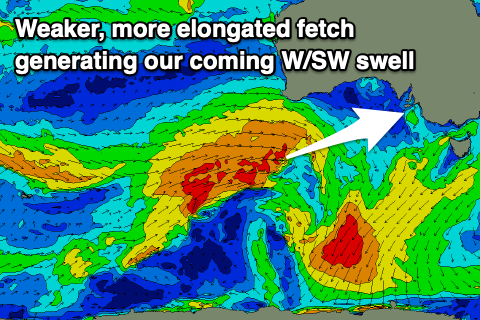 This afternoon's strong pulse of W/SW swell should hold in at 2ft+ across the Mid Coast tomorrow morning, but the high tide will cause issues. As it recedes expect the consistency and size to drop, but we should see sets holding 2ft into the afternoon. This swell was generated by a strong and elongated mid-latitude frontal system pushing in and under Western Australia during the middle of this week.
The South Coast should see 3ft waves tomorrow morning across Middleton and conditions will be cleaner with a light to moderate NE breeze (E'ly across the Mid Coast). Sea breezes are due to be weak on the Mid with variable winds into the evening, and the South Coast looks to play out similar.
Into Sunday, our less consistent, reinforcing W/SW groundswell should maintain inconsistent 1-1.5ft sets on the Mid Coast along with infrequent 3ft sets across Middleton.
Conditions and winds are still tricky though with the Mid Coast being cleanest under a light SE offshore, shifting fresh SW into the afternoon. The South Coast will see light SW winds (possibly tending W/NW for a period around Victor if we're lucky) but increasing from the S'th through the day.
Come Monday variable winds are due across both coasts through the morning along with easing levels of swell. The Mid Coast will be tiny while the South Coast should ease from 2ft+ across Middleton.
Looking at the rest of the week and variable winds are due across both coasts again Tuesday morning ahead of a trough and switch to a S/SW breeze which will then freshen from the S/SE through Wednesday and Thursday, possibly lingering Friday as a strong high moves in.
This will spoil a small, new W/SW groundswell for Wednesday with a poorly structured low forecast to produce this swell on the weekend. An off-axis fetch of NW gales will be followed by SW gales, none too favourably aimed in our swell window.
As a result the Mid Coast only looks to offer infrequent 1-1.5ft sets, with the South Coast coming in around 2ft or so. Besides a weak mid-period S/SW swell for Thursday, the longer term outlook points at a possible stronger polar low forming in the Heard Island region late next week, bringing some new SW groundswell late the following weekend. More on this Monday though. Have a great weekend!