A few better windows of surfing have opened up
South Australian Surf Forecast by Craig Brokensha (issued Friday February 25th)
Best Days: South Coast Sunday morning, South Coast Wednesday, Thursday and Friday mornings
Features of the Forecast (tl;dr)
Mix of S/SE windswell and SW swell on the weekend with light-moderate SE tending fresh S'ly winds tomorrow, light W/NW tending variable ahead of mid-afternoon sea breezes Sun
Small S/SE windswell Mon and Tue with light SE winds Mon AM, freshening through the day, moderate S/SE on Tue
Inconsistent SW swell building Tue, holding Wed, with a less consistent pulse Thu, easing Fri
Variable tending winds Wed AM, light E/NE-NE Thu AM, moderate N/NE-NE tending SW on Fri
Recap
Near flat conditions in the gulf yesterday but there's a tiny hint of new swell today, while the South Coast saw deteriorating conditions yesterday with slowly freshening onshore winds, poor today with strong SE-S/SE breezes.
This weekend and next week (Feb 26 – Mar 4)
The coming outlook is a touch better than it was looking on Wednesday with a couple more windows of lighter winds and cleaner surf now expected across the South Coast.
Looking at the weekend and a small mix of S/SE windswell and mid-period SW swell are due tomorrow, but conditions will remain average with a light to moderate morning SE breeze due to freshen from the S'th through the afternoon.
Expect surf to 2-3ft down South, tiny on the Mid Coast, with Sunday now looking well worth a drive down South. Winds are due to ease and tend light W/NW across the region, creating cleaner, peaky waves easing from the 2ft+ range. It'll be weak in nature so pack some volume to squeeze the most out of the surf. Sea breezes are only due to be weak and developing mid-afternoon or so, so there should be plenty of opportunity to fit in a paddle.
Monday is a little tricky, with pre-dawn variable winds due to tend SE and slowly strengthen while shifting S/SE into the afternoon. Early might be OK but the swell looks to be at a low point and only to 1-2ft across the South Coast so it'll be a lay day for most.
Into Tuesday winds look to remain average and moderate from the S/SE along with some new, building inconsistent SW swell.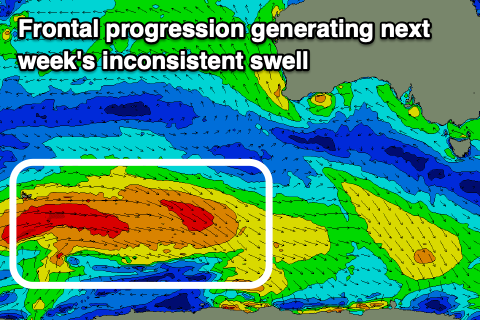 The source of the coming swell which looks to peak through Wednesday is a couple of back to back polar lows and drawn out fetches of strong to near gale-force W-W/NW winds moving in from the south-west of Western Australia.
At the back of the progression a stronger low will generate gale to severe-gale winds but west of the Heard Island region, in our far far swell window.
What we can expect is fun levels of SW swell building Tuesday, reaching 3ft later in the day, holding Wednesday and then easing back a touch to 2-3ft on Thursday as inconsistent groundswell sets move in from the stronger, distant low. The Mid Coast isn't due to offer any real size with infrequent 0.5-1ft sets due on the favourable parts of the tide.
Winds should improve into Wednesday and become variable, creating fun, clean though peaky conditions on the South Coast, similar Thursday but tending NE through the morning with Friday also seeing N/NE offshores ahead of a SW change owing to a trough through the day. We'll have a closer look at this Monday.
Longer term it looks like we'll see some healthy Southern Ocean frontal activity firing up south-west of Western Australia later next week, bringing swell for the following week, but we'll see you Monday. Have a great weekend!