Limited options for a decent wave
South Australian Surf Forecast by Craig Brokensha (issued Friday January 28th)
Best Days: Keen surfers South Coast Sunday morning (Mid Coast for beginners), South Coast Monday morning
Features of the Forecast (tl;dr)
Mod-fresh SE tending stronger S/SE winds tomorrow
Late increase in inconsistent SW groundswell tomorrow, peaking Sun with moderate SE tending fresh S/SE winds
Easing SW groundswell Mon with variable winds ahead of sea breezes
Light SW tending stronger S/SW winds Tue, then strong S-S/SE for the rest of the week and following weekend
Small-mod levels of S/SE windswell mid-late next week/weekend
Recap
Tiny surf continued across both coasts yesterday morning with variable winds and 0.5-1ft sets on the Mid Coast, fading through the day with clean conditions and 1ft+ waves across Middleton. Sea breezes kicked in through the afternoon and today we've got a weak onshore flow across the South Coast as we fall in the tail of a board trough that pushed east across us.
This weekend and week (Jan 29 – Feb 4)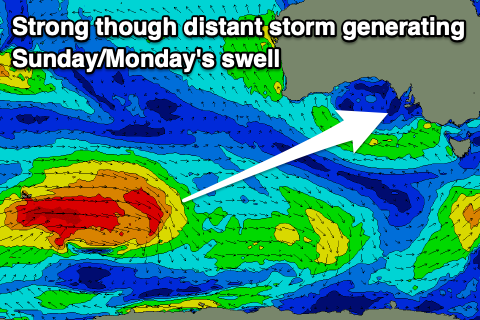 Looking at the weekend ahead and a high is now edging in from the west, with it bringing strengthening S/SE winds through tomorrow with a new, inconsistent SW groundswell arriving later in the day ahead of a peak Sunday.
The source of this swell was a distant though polar low that's since weakened south of Western Australia last night. It'll be inconsistent but Middleton should offer 3-4ft sets with the Mid Coast coming in at 1ft+ on the favourable parts of the tide.
Winds are due to tip more SE on Sunday morning and be moderate in strength, creating OK conditions for the desperate while the Mid should be nice and clean.
Early next week is the best chance to get a surf in across the South Coast as a deepening trough moving in from the west pushes the high out to the east. This should bring more variable winds on Monday morning (possibly light W/NW across Victor but most likely E/NE) along with inconsistent, easing sets from 3ft across Middleton. The Mid Coast will also see light E/SE winds but tiny, fading sets.
Come Tuesday the trough will move through bringing strengthening S/SW winds (lighter SW at dawn). Swell wise Sunday's will be continuing to ease and down from 2ft across Middleton while some building windswell is due into the afternoon across both regions.
This change on Tuesday will be followed by a broad, strong high moving in slowly from the west, setting up camp in the Bight through most of next week and weekend, resulting in a poor run of strong S/SE winds with no quality groundswell. Localised levels of windswell are due but there'll no respite from the wind.
This pattern doesn't look to change until the following week at the earliest but we'll have a closer look at this Monday. Have a great weekend!