Fun W/SW swells for Sunday and Monday
South Australian Surf Forecast by Craig Brokensha (issued Friday October 8th)
Best Days: Today down South, tomorrow morning down South on the swell magnets, Mid Coast early and late Sun, Mid Coast Monday, South Coast Monday and Tuesday mornings
Features of the Forecast (tl;dr)
Easing swell Sat variable offshore winds, tending light SW late morning then strengthening into the afternoon
Building mix of W/SW swells Sun with fresh S/SW winds, strengthening later (S/SE early and late on the Mid Coast)
Easing W/SW swells Mon with mod-fresh E/NE tending S/SE winds
Easing surf Tue with fresh N/NE tending E/NE winds
Late pulse of moderate sized W/SW groundswell Wed with W/NW winds, easing through Thu with stronger N/NW tending S winds
Recap
Nothing special yesterday with leftover 1-2ft sets persisting across the Mid Coast, a bit better than expected but when cleanest early, too full, and then bumpy into the afternoon. The South Coast as an early period of W'ly winds and lumpy surf, average into the afternoon.
Today is much better down South with a new, mid-period SW swell and surf to 2-3ft across Middleton with great winds, 1-2ft early on the Mid today but becoming bumpy and tiny with the outgoing tide.
This weekend and next week (Oct 9 - 15)
Looking at this afternoon down South, this morning's swell is due to ease and winds will shift W/NW, so try and surf before mid-afternoon for the best waves.
We'll see today's swell drop further tomorrow, back from an inconsistent 2ft across the Middleton stretch but with variable offshore winds, giving into a very weak change late morning which will then strengthen through the afternoon.
This will be associated with a trough moving through, linked to a weakening/patchy mid-latitude frontal progression pushing in from the west.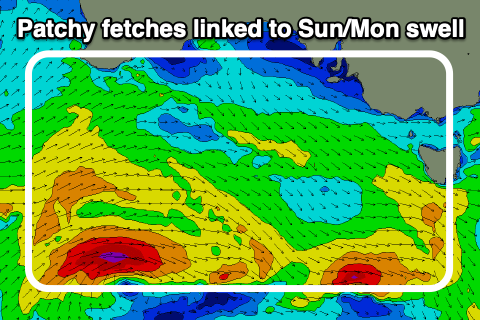 This progression which is generating strong to at times gale-force W/SW winds is the remnants of a stronger polar low that fired up east of the Heard Island region on Wednesday, with it producing patchy but much stronger gales aimed towards us.
We'll see a mix of W/SW groundswell and mid-period swell building through Sunday and peaking into the afternoon with the Mid Coast
The morning looks to be 1-2ft with 2ft+ sets pushing into the mid-late afternoon with the help of the tide, easing back from 2ft on the sets Monday and a little less consistent.
The South Coast is due to build to 3ft across Middleton, easing from a similar size Monday morning.
Winds on Sunday are still poor in the wake of Saturday afternoon's change with a fresh S/SW'S breeze down South, strengthening later in the day with S/SE tending S/SW winds on the Mid, but back to the S/SE later in the day.
Monday should become cleaner down South as winds tend E/NE but there'll be lots of lump from the onshore winds the day before.
A better N/NE offshore is expected on Tuesday but the swell will be small again, easing from 2ft across Middleton.
We then look at a good, moderate-large W/SW groundswell due into late next week across the state.
This will be produced by a strong frontal system projecting a fetch of W/SW gales towards us, from the Heard Island region tomorrow evening, through until early Tuesday. The front is due to weaken once it approaches the Bight but then spawn into a mid-latitude low, with weaker W/SW winds aimed towards us.
We should see this activity generating a good groundswell that'll arrive later Wednesday, kicking to 2-3ft by dark on the Mid Coast, then easing from the 3ft range Thursday, with the South Coast peaking Thursday morning to the 4ft range. Winds at this stage look to be out of the W/NW on Wednesday and N/NW tending S on Thursday but we'll have a closer look at this on Monday. Get stuck in down South now!