Tricky, average period after the recent run
South Australian Surf Forecast by Craig Brokensha (issued Monday September 27th)
Best Days: Selected spots keen surfers down South tomorrow morning and early Wednesday down South
Features of the Forecast (tl;dr)
Small, inconsistent, mid-period SW swell filling in tomorrow, holding Wed. Fresh NE tending E/NE winds tomorrow, early moderate NE Wed, tending quickly E/SE and then strong S into the PM
Moderate sized, mid-period S/SW swell for Thu with strengthening S winds
Secondary pulse of mid-period S/SW swell for Fri PM with strong S/SW winds
Easing surf Sat with possible variable morning winds, smaller Sun with strengthening W/NW winds
Recap
Light winds and a lumpy, workable 1-2ft wave on the Mid Coast Saturday morning, dropping back from Friday, while the South Coast was poor and onshore but with plenty of size.
Cleaner conditions were seen down South yesterday morning with a drop in size back to 3-4ft across the Middleton stretch, holding 1ft to occasionally 2ft on the Mid Coast.
Today is smaller but cleaner again with 2-3ft waves across Middleton, best now before winds go more east into the afternoon. The Mid Coast was nice and clean again but tiny.
This week and weekend (Sep 28 – Oct 3)
We've got a couple of small days of surf on the cards ahead of some stronger S/SW swells into the end of the week but with poor winds.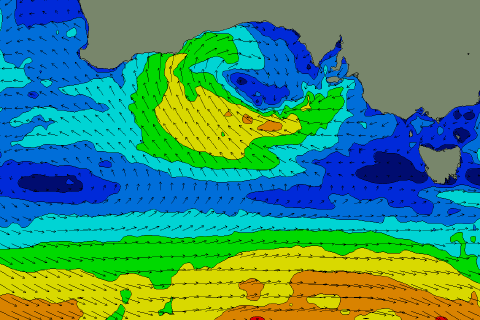 This will be as a broad mid-latitude low that's currently west of us (pictured right) slowly moves in from the west, bringing a swing in winds from the east to the south-west as we fall under the influence of the eastern and then western flanks of the low.
So looking at tomorrow and Wednesday, some inconsistent, new mid-period SW swell is due, generated by relatively weak polar frontal activity to the south-southwest of Western Australia late last week and on the weekend.
The models are over-forecasting the size for the South Coast and combining the mid-period signal with the existing energy so expect small 2ft sets across Middleton and tiny waves on the Mid Coast.
Winds won't be too favourable tomorrow with a fresh NE'ly favouring spots like Goolwa and other protected spots, though locations further west look to see more E/NE winds.
Wednesday is tricky as the low starts moving east but it looks like we'll see moderate dawn NE winds, shifting E/SE by mid-morning and fresher S'ly into the afternoon as we fall under the influence of the backside of the low.
The slow movement of the low unfortunately looks to keep fresh S'ly winds blowing into Thursday, strengthening through the day, kicking up a small windswell for the South Coast.
There'll be a stronger, mid-period S/SW swell in the water though, generated by a broad, healthy looking frontal progression passing under the country over the coming days (right).
A fetch of strong to near gale-force W/SW winds should produce a fun 3ft to possibly 4ft of swell for Middleton Thursday but with those poor winds. The Mid Coast will be tiny and choppy, with the low sitting too far north to generate any westerly swell from its northern flank (which will be over land).
Winds will swing more S/SW into Friday but remain strong, keeping both coasts poor and unsurfable (quality wise).
A secondary pulse of similar sized, mid-period S/SW swell is due Friday afternoon, produced by another polar frontal system moving in from the south-west of Western Australia, and there's hope for a more variable breeze Saturday morning, but we'll have to confirm this Wednesday. Size wise Middleton still looks to be 3ft on Saturday morning, smaller Sunday and to 2ft along with a shift in winds to the west and strong.
This shift in winds will be linked to a secondary mid-latitude low drifting in from Western Australia while strengthening. This looks to be more favourable for swell generation on the Mid, but with those onshore winds (shown right). We'll have to have a closer look at this on Wednesday and Friday though.