Smaller, clean week, increased action from Sunday afternoon
South Australian Surf Forecast by Craig Brokensha (issued Monday April 26th)
Best Days: South Coast magnets tomorrow morning, Wednesday morning and Friday morning, Mid Coast for the keen late Thursday and Friday morning
Features of the Forecast (tl;dr)
Easing S/SW swell over the coming days with favourable morning winds for the South Coast magnets
Inconsistent W/SW-SW swell building Thu PM with morning N/NE-NE winds ahead of weak sea breezes, peaking Fri with similar winds
Moderate sized mid-period W'ly swell building Sun PM with W/SW winds, easing Mon with lighter winds
Mod-large SW groundswell building Mon PM, peaking Tue with E/SE winds
Recap
Large, clean, pumping surf for the experienced on Saturday down South with Friday's large swell still coming in at a good 6ft. There were quality waves right across the region, easing back to 3-4ft but clean again Sunday morning.
The Mid Coast dropped back to a clean 1-1.5ft with the swing in direction to the south Saturday, 0.5-1ft on Sunday.
Today a reinforcing, mid-period S/SW swell has kept Middleton around a great 3ft with offshore winds, and sea breezes this afternoon shouldn't be too bad. The Mid is also up a little and to 1-1.5ft.
This week and weekend (Apr 27 – May 2)
Down, down, down. That's the trend from here with the surf due to ease in size and power over the coming days ahead of an inconsistent W/SW swell late week.
In the wake of last week's 'bombing' low and follow up frontal activity, there's been nothing of significance in our swell window since, resulting in the drop in size.
Winds will remain ideal for the South Coast though with a N/NE offshore tomorrow morning ahead of weak sea breezes and easing 2-3ft waves off Middleton, N/NW ahead of S sea breezes Wednesday but easing from 2ft. Thursday looks tiny but clean again with a N/NE morning breeze.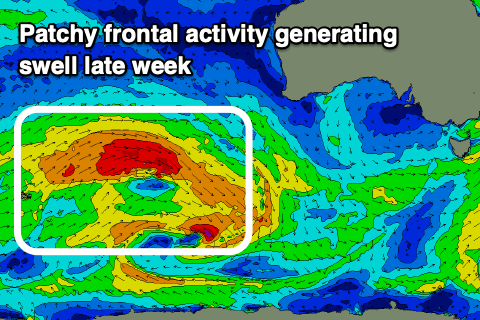 Into Thursday afternoon and more so Friday some new, inconsistent W/SW-SW swell is due across the state, generated by a patchy and not overly strong frontal progression that's currently west-southwest of Western Australia.
Patchy fetches of strong to gale-force W/SW winds are being generated through our western swell window, with the activity dipping south-east while moving under the country tomorrow more into our south-west swell window.
We should see the W/SW energy arriving Thursday afternoon, offering infrequent 1-1.5ft sets on the Mid Coast, holding Friday. The South Coast may reach 2ft across Middleton late, with 2ft to possibly 3ft sets more so towards Goolwa.
Winds look favourable and from the N/NE-NE in the morning Friday ahead of sea breezes, fresher NE tending strong N on Saturday ahead of an approaching mid-latitude low as the swell eases.
Now, this mid-latitude low looks to fire up in the Bight, generating a tight fetch of strong to gale-force W/SW winds and a new, mid-period W'ly swell for Sunday afternoon and Monday morning.
Size wise, the Mid looks to build to 2-3ft by late Sunday along with easing onshore W/SW winds. The acute westerly nature of the swell will see the South Coast mostly missing out and likely not topping 2ft across Middleton.
Of greater importance is a very strong polar low firing up around the Heard Island region Thursday, with a moderate-large, long-period SW groundswell due into Monday afternoon but more so Tuesday next week. Winds are too tricky to decipher as the models diverge regarding a high moving in behind the mid-latitude low. We'll likely see E/SE breezes, but more on this Wednesday.